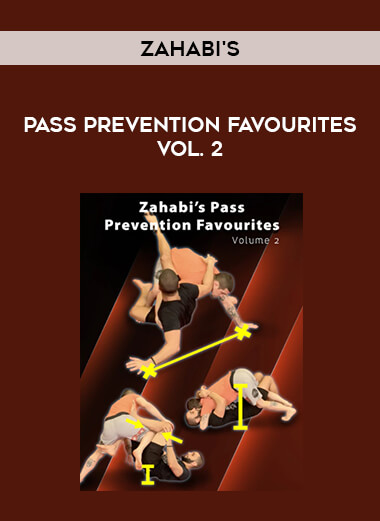 Zahabi's Pass Prevention Favourites Vol. 2
Salepage : Zahabi's Pass Prevention Favourites Vol. 2

In this video Coach Zahabi shows you more of his favourite ways to counter the Guard Pass. In Vol.2 Coach will show you how to
The 3 very important elements to stopping a loose passer
How to easily flow from defending the guard pass to attacking from your favourite Guard position
How to Master the "Kickstand" Coach's favourite Guard pass prevention maneuvre
How to stop a "Floating" Passer easily and then turn the tables on him
How to counter the lag drag pass
How to Hip-Heist your way to from headlock vs leg drag passers
The easiest and most effective counter vs pressure passers that is commonly missed by even black belts.
Understanding the Loose leg problem
How to use the "Windmill" counter
How to use the "twist" to create of balancement
How to use the "Triple attack" vs Pressure passers
How to defend and attack the pressure passer
And much more
This video runs for a little over 45min but is the equivalent of what you would learn in a 3 hours seminar! Coach loves to get straight to the point with zero fluff. You will waist zero minutes watching this video, every single minute in this video is educational. Get your note pad out, watch the sequences a number of times, get to the mats and drill and watch your Guard pass prevention improve dramatically!
What is Martial arts ?
Martial arts are codified systems and traditions of combat practiced for a number of reasons such as self-defense; military and law enforcement applications; competition; physical, mental, and spiritual development; entertainment; and the preservation of a nation's intangible cultural heritage.
Zahabi's Pass Prevention Favourites Vol. 2