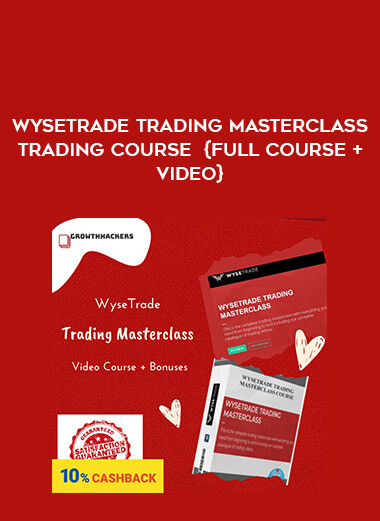 Wysetrade Trading Masterclass Trading Course {FULL COURSE+ VIDEO}
Salepage : Wysetrade Trading Masterclass Trading Course {FULL COURSE+ VIDEO}

Product Description
WHAT'S INCLUDED:
96 Trading Lessons (& Growing):
A complete step-by-step guide designed to create literacy in the currency & financial markets. All information & content provided are concepts that are applicable to the real markets and not solely theory based.
38 In-Depth Premium Trading Videos (& Growing):
Access to our complete catalogue of in-depth trading videos & content that provides you with everything you need. All content is designed to foster an optimum level of comprehension.
Advanced Price Action Techniques:
A refined approach to technical analysis & price action through understanding true market dynamics. True price action interprets the market for what it is actually telling you, without the reliance on indicators. We provide you with advanced techniques you won't find anywhere else online.
Key Swing Trading Strategies:
Access to our key swing trading strategies and techniques that are designed through the concept of price action reaction meaning it is a wait and see approach and always waiting for the market to show confirmation before an entry.
Key Intraday Trading Strategies:
These are our advanced intraday trading strategies that focus on the fast moves that materialize through the intraday time frames. These strategies are for traders who desire a more active approach to trading.
Key Trading Tools:
There are specific tools we use within our trading that gives us an advantage over other traders which we will provide you with in this program and show you how to use them in combination with our strategies to take your trading to the next level.
What is forex trading?
Forex, or foreign exchange, can be explained as a network of buyers and sellers, who transfer currency between each other at an agreed price. It is the means by which individuals, companies and central banks convert one currency into another – if you have ever travelled abroad, then it is likely you have made a forex transaction.
While a lot of foreign exchange is done for practical purposes, the vast majority of currency conversion is undertaken with the aim of earning a profit. The amount of currency converted every day can make price movements of some currencies extremely volatile. It is this volatility that can make forex so attractive to traders: bringing about a greater chance of high profits, while also increasing the risk.
Wysetrade Trading Masterclass Trading Course {FULL COURSE+ VIDEO}