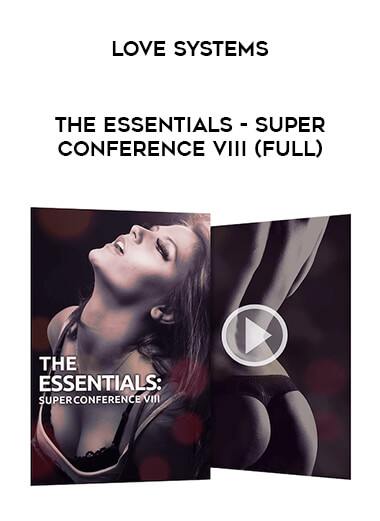 The Essentials – Super Conference VIII (Full) By Love Systems
Salepage : Love Systems – The Essentials – Super Conference VIII (Full)
The ultimate home study course that will teach you how to approach, meet, attract, seduce, and date the most desirable women in the world! Eight of the world's top dating coaches (including Nick Savoy) have come together to create The Essentials: Super Conference VIII.
There's a cutie in your life that you can't stop thinking about, but she doesn't see you as a lover, and you want to know how to get a girl to like you.
Your heart skips a beat when you see a hot girl, but you never know what to do and want to know how to date that hot girl.
You love it when your friends are jealous of you when they see you with a hot girl (but it hasn't happened in a while)
You're pretty good with women, but want to get better and don't want to waste your time with anything but the best advice
You've always wanted to sleep with a model, blonde girl, stripper, or [girl of race X] and want to know how
You see Hank Moody on Californication, Vince Chase on Entourage, or George Clooney in pretty much anything and think, "How can I also get girls to throw themselves at me?"
You love the young, hot sorority-girl type, but don't have any of them in your life
Your kind of a big deal at work, but it doesn't translate into girls liking you
You just got divorced and want to date, but are confused by modern dating
You want to have a "non-traditional" and adventurous love life – and want to make a real plan to make it happen and want to know how to date more than one girl
If one or more of the above describes you, the this course is exactly what you're looking for.
This course features the actual strategies, techniques, mindsets, exercises, routines, and approaches used by the most successful seduction masters in the world to approach and get a girl to like you that you can use for results that most guys can only dream about.
All of a sudden, instead of worrying about what to say, or how to approach cute girls, you'll be worried about making sure she doesn't get too attached or how you can date more than one girl at a time.
Included Sections Video Length (h:m:s)
Volume 1: Super Conference Documentary & In-field Video 0:49:55
Volume 2: Biggest Breakthroughs & The Love Systems Triad Model (Savoy & Braddock) 1:06:10
Volume 3: Inner Game (Braddock) 1:05:09
Volume 4: Attraction (Future) 0:58:51
Volume 5: Quick Fixes (Keychain) 0:53:31
Volume 6: Identity (Cajun) 1:03:23
Volume 7: Fashion (Braddock) 0:57:38
Volume 8: Lifestyle (Jeremy Soul) 1:06:37
Volume 9: Frame Control (Fader) 1:06:50
Volume 10: Phone & Text Game (Chris "Tenmagnet" Shepherd) 1:04:32
Volume 11: Dates (Keychain) 0:56:59
Volume 12: Closing Ceremony & In-field Video 0:22:39
Interview Series Vol. 85: Gaming With and Without Alcohol
What is Seduction ?
Seduction has multiple meanings. Platonically, it can mean "to persuade to disobedience or disloyalty", or "to lead astray, usually by persuasion or false promises".
Strategies of seduction include conversation and sexual scripts, paralingual features, non-verbal communication, and short-term behavioural strategies. The word seduction stems from Latin and means literally "leading astray." As a result, the term may have a positive or negative connotation. Famous seducers from history or legend include Lilith, Giacomo Casanova, and the fictional character Don Juan. The emergence of the Internet and technology has supported the availability and the existence of a seduction community, which is based on discourse about seduction. This is predominately by "pickup artists" (PUA). Seduction is also used within marketing to increase compliance and willingness.
Seduction, seen negatively, involves temptation and enticement, often sexual in nature, to lead someone astray into a behavioural choice they would not have made if they were not in a state of sexual arousal. Seen positively, seduction is a synonym for the act of charming someone—male or female—by an appeal to the senses, often with the goal of reducing unfounded fears and leading to their "sexual emancipation." Some sides in contemporary academic debate state that the morality of seduction depends on the long-term impacts on the individuals concerned, rather than the act itself, and may not necessarily carry the negative connotations expressed in dictionary definitions.
The Essentials – Super Conference VIII (Full) By Love Systems