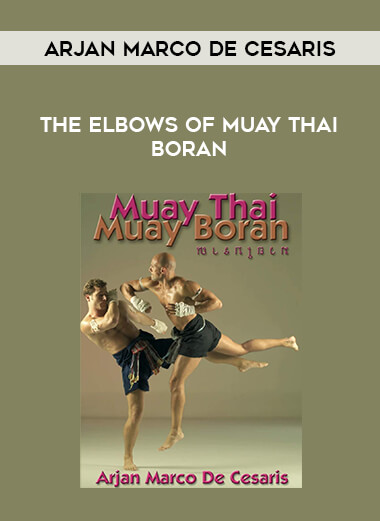 The Elbows Of Muay Thai Boran By Arjan Marco De Cesaris
Salepage : Arjan Marco De Cesaris – The Elbows Of Muay Thai Boran

The Elbows Of Muay Thai Boran DVD By Arjan Marco De CesarisThe elbow blow is perhaps the weapon more feared for all the professionals of the Martial Arts and the sports battle.
True "trade name" for the Muay Thai, is for a many too dangerous technique to be used in Ring, and it would be due to study only for his use in situations of self-defense.
In this new DVD, Arjarn Marco de Cesaris it shows the fundamental form for the first time that it will allow us to train the 15 basic blows of elbow of the Muay Thai Boran, the applications of greater effectiveness, the methodologies of training and a special section on the combinations of blows.
A work indispensable for enthusiastic of the sport combat and the self-defense.
In this new video, Arjarn Marco Of Cesaris shows for the first time the fundamental forms that will allow you to train the 15 basic elbow strikes of the Muay Thai Boran, the most effective applications, the training methodologies and a special section of strike combinations.
An indispensable work for the sport combat and self defense enthusiasts.
Languages included in video: English, Espanol, Deutsch, Italiano, Francais
Running Time: Approx 58 minutes
Video Resolution: 720 x 576
What is Martial arts ?
Martial arts are codified systems and traditions of combat practiced for a number of reasons such as self-defense; military and law enforcement applications; competition; physical, mental, and spiritual development; entertainment; and the preservation of a nation's intangible cultural heritage.
The Elbows Of Muay Thai Boran By Arjan Marco De Cesaris