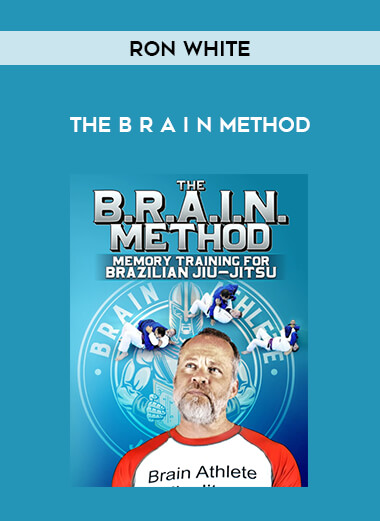 The B R A I N Method by Ron White
Salepage : The B R A I N Method by Ron White

Take Your Game To The Next Level With Ron White's Unique Methods Of Learning Jiu-Jitsu! Finally, Remember All Your Techniques With This Innovative Approach!
Use Ron's recall methods to help you remember techniques under the most stressful of circumstances.
Maximize your time on the mat with surefire strategies to learning all aspects of Jiu-Jitsu.
Take your game beyond a collection of your favorite moves. Instead, build a framework that allows you to absorb techniques in a way that you won't forget!
Perfect for grapplers who can't train as often as they would like!
Learn to LEARN with Ron White's easy to understand approach that will have you creating meaningful connections to your Jiu-Jitsu in a way that you CAN'T forget!
Volume 1
SECTION 1 COURSE INTRODUCTION. Introduction to B.R.A.I.N. Method 0 – 7:33
Explanation of Creating Backgrounds 7:33 – 14:18
Memorizing 10 Principles of Jiu Jitsu & Practicing Background Method 14:18
Volume 2
Mind Palace Creation 0 – 16:34
FInishing B.R.A.I.N. 16:34
Volume 3
SECTION 2: The Fundamentals. Memorize 20 Jiu Jitsu Moves 0 – 13:46
Answers to Memory Test and Explanation of Using Concept For Jiu Jitsu Moves 13:46 – 32:19
General Tips to Remember 32:19
Volume 4
SECTION 3: The ABC Method to Remember Moves. Introduction to ABC Method 0 – 4:34
ABC Method – Memorizing Kimura From Side Control 4:34 – 10:55
ABC Method – Memorizing Americana From Side Control 10:55 – 17:31
ABC Method – Memorizing Arm Bar From Side Control 17:31 – 21:40
ABC Method – Memorizing X Choke From Side Control 21:40 – 27:46
ABC Method – Memorizing Escape From Side Control 27:46 – 33:48
SECTION #4 Conclusion and Going Beyond This Course. Conclusion and The Future of Your Training 33:48
What is Martial arts ?
Martial arts are codified systems and traditions of combat practiced for a number of reasons such as self-defense; military and law enforcement applications; competition; physical, mental, and spiritual development; entertainment; and the preservation of a nation's intangible cultural heritage.
The B R A I N Method by Ron White