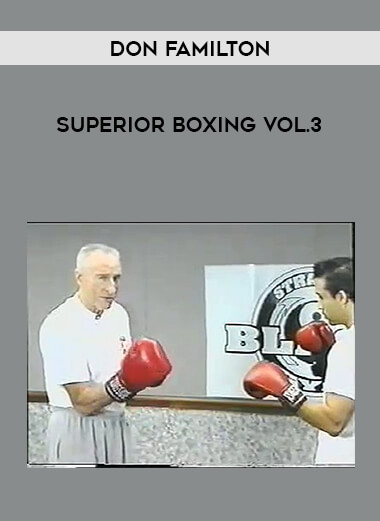 Superior Boxing Vol.3 By Don Familton
Salepage : Don Familton – Superior Boxing Vol.3

Don Familton's Superior Boxing Don Familton is a coaches coach.
He has been training professional fighters for over 50 years! In this SBG productions exclusive Don brings this lifetime of knowledge into the studio.
He teaches the old school of boxing that has all but died out as many of the great coaches have aged and passed on.
Don't miss this opportunity to see what real boxing is all about, and to take your stand up game to a whole new level!
DF# 3: Superior defense and strategy Don teaches slipping, bobbing and weaving, how to set up body shots, and how to use strategy to outsmart your opponent and win the fight.
What is Martial arts ?
Martial arts are codified systems and traditions of combat practiced for a number of reasons such as self-defense; military and law enforcement applications; competition; physical, mental, and spiritual development; entertainment; and the preservation of a nation's intangible cultural heritage.
Superior Boxing Vol.3 By Don Familton