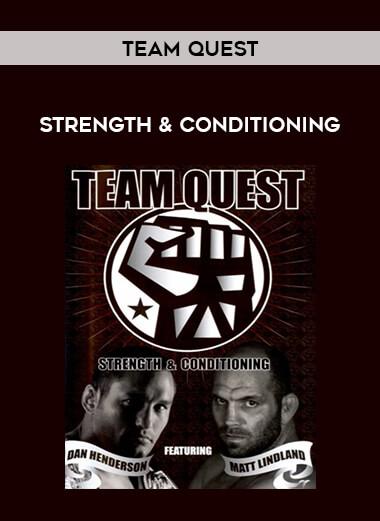 Strength & Conditioning By Team Quest
Salepage : Team Quest – Strength & Conditioning

Team Quest fighters are known worldwide for their success in the ring and the cage. From amateur wrestling to mixed martial arts, Dan Henderson, Matt Lindland and Randy Couture have achieved success at elite levels. Now, for the first time, Team Quest's training methods are available to any athlete looking to improve conditioning and performance. Team Quest has condensed a lifetime of training and competition from world class athletes, doctors and coaches into its Strength & Conditioning Program. These training methods are what Team Quest athletes use on a daily basis to prepare for fights in major MMA events. This DVD is ideal for anyone looking to achieve optimum performance in combative sports. Features:
– Team Quest Workout Programs
– Sparring & Training Footage
– Dan Henderson Fight Preparation Documentary
What is Martial arts ?
Martial arts are codified systems and traditions of combat practiced for a number of reasons such as self-defense; military and law enforcement applications; competition; physical, mental, and spiritual development; entertainment; and the preservation of a nation's intangible cultural heritage.
Strength & Conditioning By Team Quest