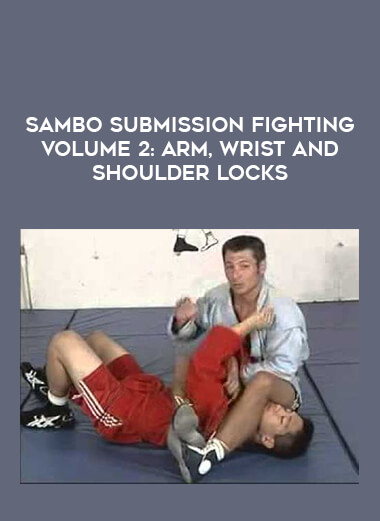 Sambo Submission Fighting Volume 2: Arm, Wrist and Shoulder Locks
Salepage : Sambo Submission Fighting Volume 2: Arm, Wrist and Shoulder Locks

With this must have DVD the brutal Arm, Wrist and Shoulder Locks of Russian Sambo are now yours! Designed for all style fighters you will immediately improve your Gi and no Gi submission skills as Sambo Master Vladislav Koulikov personally teaches you the submission techniques that have made him a World Middleweight Grapplers Quest and Sambo Freestyle Fighting Champion! Many of the Sambo Arm, Wrist and Shoulder Lock submissions and escapes presented on this dynamic DVD have never been seen outside Master Koulikov's private training hall. Just some of the numerous arm, wrist and shoulder lock submissions you will learn from the mount, side mount, guard, scarf hold and standing positions include: The Flying Arm Bar Takedown Combo, Reverse Wrist Lock, Bent Sambo Arm Lock, Shoulder Lock, Reverse Sambo Wrist Lock, Sambo Deadly Bicep Crush, Brutal Arm Bars from the Guard and Mount Positions, Arm Bar Escapes from the Guard, a series of grip breaking techniques designed! to instantly break open your opponents grip so you can easily apply arm locking submissions and much more! This exciting DVD includes live fight footage of Master Vladislav Koulikov defeating opponents in tournaments with his dynamic Sambo throws and submission techniques! BONUS! Master Koulikov also includes brutal bone breaking arm locks for self-defense when confronted in a life or death street fighting situation.
What is Martial arts ?
Martial arts are codified systems and traditions of combat practiced for a number of reasons such as self-defense; military and law enforcement applications; competition; physical, mental, and spiritual development; entertainment; and the preservation of a nation's intangible cultural heritage.
Sambo Submission Fighting Volume 2: Arm, Wrist and Shoulder Locks