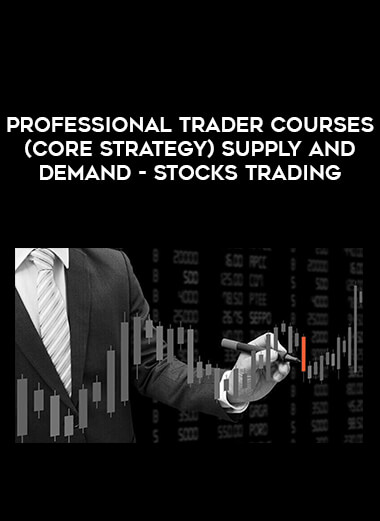 Professional Trader Courses (Core Strategy) Supply and Demand – Stocks Trading
Salepage : Professional Trader Courses (Core Strategy) Supply and Demand – Stocks Trading

FILE SIZE: 3.91GB
In our Core Strategy courses, you will learn skills and techniques to help you buy and sell ETFs like a pro. We will teach you a simple, rules-based strategy which is designed to help you find trading opportunities. This strategy helps you to identify key market turning points and major moves in advance. The Core Strategy courses (formerly known as Professional Trader) focus on stock trading using ETFs, although the skills and discipline you will learn are applicable to any asset class. We deliver fully interactive lectures led by experienced instructors combined with live trading sessions focusing on market analysis and trade execution.
THE ZERO SUM GAMES
Trading is a transfer of money from those who don't know how the markets work, to those who do. Unlock the truth as you learn to identify two types of traders and recognize their activity on a price chart.
PROFESSIONAL TRADING PLATFORM
Using professional tools is critical to ensure you get the best price and manage risk appropriately. Learn how the pros trade with a direct access workstation and Level II pricing data that shows you the power behind the markets in real time.
CHARTING AND TECHNICAL ANALYSIS
Learn how to recognize an imbalance of supply and demand on a price chart in order to plan your entry and exit points. Identify which technical indicators are valuable odds-enhancers, and which can be safely ignored.
YOUR PERSONAL TRADING PLAN
Use advanced risk management techniques to ensure consistency in your trades and help take the emotions out of your decisions.
What is forex trading?
Forex, or foreign exchange, can be explained as a network of buyers and sellers, who transfer currency between each other at an agreed price. It is the means by which individuals, companies and central banks convert one currency into another – if you have ever travelled abroad, then it is likely you have made a forex transaction.
While a lot of foreign exchange is done for practical purposes, the vast majority of currency conversion is undertaken with the aim of earning a profit. The amount of currency converted every day can make price movements of some currencies extremely volatile. It is this volatility that can make forex so attractive to traders: bringing about a greater chance of high profits, while also increasing the risk.
Professional Trader Courses (Core Strategy) Supply and Demand – Stocks Trading