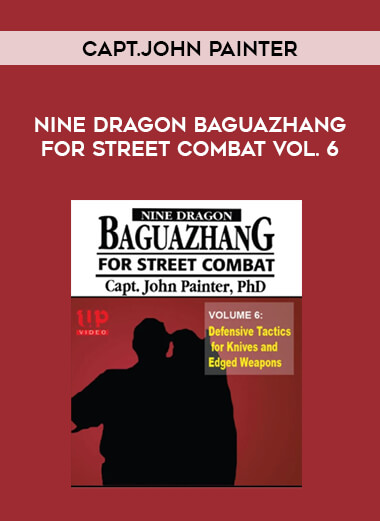 Nine Dragon Baguazhang for Street Combat Vol. 6 By Capt.John Painter
Salepage : Capt.John Painter – Nine Dragon Baguazhang for Street Combat Vol. 6

Nine Dragon Baguazhang for Street Combat 6 vol.
series by Capt.
John Painter
Vol 6: Defensive tactics for knives and edged weapons – On tape six Capt Painter features whole body powers of the Earth and Mountain Postures of Nine Dragon Baguazhang as used in a life or death struggle with an opponent armed wth an edged weapon.
Learn to recognize safe zones, establish distance, neutralize, counter and disarm a street fighter armed with machete, fighting knife, broken bottle or a hidden small blade.
Mind and body principles of combat preparedness are fully explained.
What is Martial arts ?
Martial arts are codified systems and traditions of combat practiced for a number of reasons such as self-defense; military and law enforcement applications; competition; physical, mental, and spiritual development; entertainment; and the preservation of a nation's intangible cultural heritage.
Nine Dragon Baguazhang for Street Combat Vol. 6 By Capt.John Painter