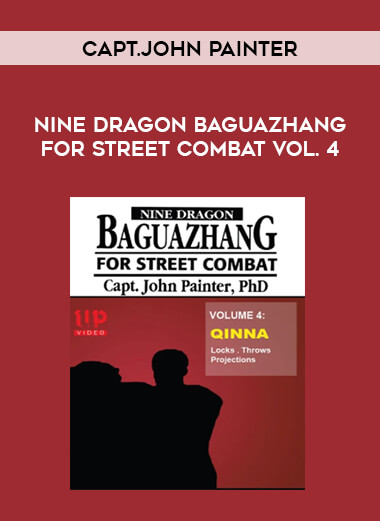 Nine Dragon Baguazhang for Street Combat Vol. 4 By Capt.John Painter
Salepage : Capt.John Painter – Nine Dragon Baguazhang for Street Combat Vol. 4

Nine Dragon Baguazhang for Street Combat 6 vol.
series by Capt.
John Painter
Vol 4: Qinna – Locks, throws, projections – Tape four focuses on the mind/body power of Nine Dragon Baguazhang's Heaven and Lake Palms.
You'll learn the uncomplicated use of your palms, arms, torso and legs to seize pressure & nerve points, lock joints, break limbs or throw an enemy who is attempting to choke, grab, hold, strike or kick you.
Learn to use the power of the guiding, sticking energies with the smooth or pulse emitting Jing (Mind/Body internal Force) to easily throw an opponent many feet away from you.
What is Martial arts ?
Martial arts are codified systems and traditions of combat practiced for a number of reasons such as self-defense; military and law enforcement applications; competition; physical, mental, and spiritual development; entertainment; and the preservation of a nation's intangible cultural heritage.
Nine Dragon Baguazhang for Street Combat Vol. 4 By Capt.John Painter