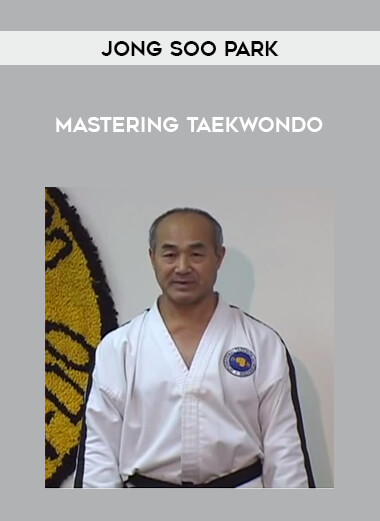 Mastering TaeKwonDo By Jong Soo Park
Salepage : Jong Soo Park – Mastering TaeKwonDo

Mastering TaeKwonDo
Author: Grand Master Jong Soo Park
Description: 10 DVDs ripped to .AVI 1 PDF of DVD covers
DVD 1: Mastering Tae Kwon Do: Under Black Belt PatternsGrand Master Park will show you not just the basic forms in two different speeds learning mode and performance speed.
He will also show you the essence of the patterns showing the most important moves and then he will show the self defense applications of many of the moves of each of the forms and what it is that they are trying to teach.
DVD 2: Mastering Tae Kwon Do: Advanced Kicks Jump and FlyingYou will learn on this DVD, correct basic kicking, correct spinning kicks, correct Jumping and Flying kicks and much more.
DVD 3:Hand BasicsThis DVD will teach you all the hand basics including blocking striking as well stances and blocks with your legs.
Master Park in his easy to learn teaching methods make this the absolute perfect DVD for beginners of TKD.
He will show you so much and in such detail that you will be totally amazed by his not only teaching skills but by his attention to detail that few TKD teachers go into.
If you have been training for less then one year this is an absolute must DVD.
DVD 4:Mastering Tae Kwon Do: Tae Kwon Do versus Muay Thai, Boxing etc.
For the first time on camera a true Tae Kwon Do Master teaches how to fight with a boxer, a Mauy Thai Expert, a Karate Ka, and a Mixed Martial artist.
He shows you how to exploit their weaknesses and take advantage of Tae Kwon Do's strengths when fighting one of these other arts.
You will see several situations for each art and he will show you in great depth how and why a Tae Kwon Do exponent uses what he has in his arsenal.
DVD 5:Mastering Tae Kwon Do: Self DefenseThe purpose of all martial arts is primarily self defense and Master Park shows you exactly how Tae Kwon Do deals with all kinds of situations against a knife a club, sitting down in a chair, woman's self defense, Also he teaches you the basic throws of Tae Kwon Do the basic sweeps and just so much more that is not explained in this day and age of Olympic Tae Kwon Do.
DVD 6: Mastering Tae Kwon Do: Demo and BioOn this DVD which is one of the most entertaining DVD's we have ever produced you will see some of the absolute most amazing demonstrations ever in Tae Kwon Do.
Grand Master Park has been known the world over for his amazing flying kicks and the speed and power he has for his techniques second to none and now you will see all this and a lot more on this totally entertaining DVD.
DVD 7:Mastering Tae Kwon Do: InterviewLearn from the lips of the man who was there the day Tae Kwon Do was formed.
In fact Master Park was the person who General Choi used to demonstrate many of the actual forms on that unforgettable day when the Korean arts were given the name Tae Kwon Do.
He tells about the Generals last wishes and what his dreams were for the future as he sat at the bed before the Founder passed away.
A DVD that all can learn from as he speaks the truth about the roots of Tae Kown Do like never before.
DVD 8:Mastering Tae Kwon Do: Under Black Belt SparringOn this DVD Master Park shows you the basic sparring drills and combinations including 1 step 2 step and 3 step sparring.
These three basic sparring drills will teach you the idea of timing and distancing which are the most important thing for you to learn before doing actual free form sparring with an opponent.
Master Park will take you step by step through each move and explain to you in his own unique way how to get started in sparring.
DVD 9:Mastering Tae Kwon Do: Black Belt PatternsMaster Jong Soo Park is known mostly for his fighting skills as he was the first heavy weight champion of Korea back in the mid 1950's.
But on this DVD you will learn the most advanced forms of Tae Kwon Do and he will show you for the first time on DVD the most important elements of each form and the applications of the most important techniques.
DVD 10: Mastering Tae Kwon Do: Black Belt SparringThis is the DVD most people have been waiting for, for years.
Taught by a real Korean Champion and with no fluff just the real deal techniques that really do work not theoretically but in actual sparring situations.
You will learn how to counter how to use your legs in combination kicks plus so much more it is impossible to explain in this limited space.
What is Martial arts ?
Martial arts are codified systems and traditions of combat practiced for a number of reasons such as self-defense; military and law enforcement applications; competition; physical, mental, and spiritual development; entertainment; and the preservation of a nation's intangible cultural heritage.
Mastering TaeKwonDo By Jong Soo Park