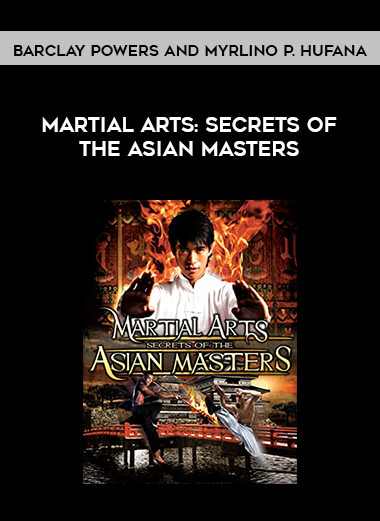 Martial Arts: Secrets of the Asian Masters By Barclay Powers and Myrlino P. Hufana
Salepage : Barclay Powers and Myrlino P. Hufana – Martial Arts: Secrets of the Asian Masters

A comprehensive look at the art of combat, Martial Arts: Secrets of the Asian Masters is a series that investigates a variety of fighting systems throughout the World. General Douglas MacArthur said, I could conquer the world with one million Philippine Warriors. Secrets of the Asian Masters captures the essence of the Filipino warrior traditions and provides an inside look at the lethal traditional fighting systems in the Philippines. Punong Guro Myrlino Hufana leads a film crew headed by Brett McGinnis of M&M Productions into the rain forests and cities of the Philippine islands. Guarded by machine gun-armed police, they are granted personal access to the Masters of Asian fighting and their students who are off limits to other filmmakers. A fascinating look into the world of traditional weapons makers, and the training of the world's most fierce young fighters going beyond specific styles and regions to explore the true spirit of Filipino fighting systems.
Martial Arts: Secrets of the Asian Masters GENRE: Documentary Video: AVC 704×468 29.970fps 2.377KbpsAudio: AAC 48000Hz 2 channels 300KbpsDuration: 1h 20mnThis is the first film that truly captures the magic of the traditional Filipino martial arts (FMA).
It brings together the history and a variety of styles, grandmasters, and philosophies.
The FMA are complete fighting systems, not mixed martial arts sports, so learning them will help in actual combat and self defense.
Because of this, the training may seem brutal, but during practice both fighters understand that safety and control are very important.
FMA includes techniques for different distances, multiple attackers, and advanced weapons fighting, so are extremely useful to police and the military, which is why The Armed Forces of the Philippines are trained in them.
However, both men and women as well as boys and girls can gain a lot from seeing this movie and from getting involved in FMA: it's great for building physical and spiritual discipline, open-mindedness and adaptability.
Everyone involved in making Martial Arts: Secrets of the Asian Masters is passionate about FMA traditions and techniques.
Nothing like this film has been done before and as many grandmasters get older, the importance of recording their unique styles becomes more urgent.
What is Martial arts ?
Martial arts are codified systems and traditions of combat practiced for a number of reasons such as self-defense; military and law enforcement applications; competition; physical, mental, and spiritual development; entertainment; and the preservation of a nation's intangible cultural heritage.
Martial Arts: Secrets of the Asian Masters By Barclay Powers and Myrlino P. Hufana