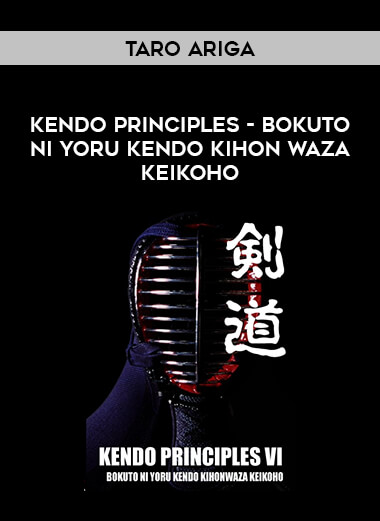 Kendo Principles – Bokuto Ni Yoru Kendo Kihon Waza Keikoho By Taro Ariga
Salepage : Taro Ariga – Kendo Principles – Bokuto Ni Yoru Kendo Kihon Waza Keikoho

KENDO PRINCIPLES VI BOKUTO NI YORU KENDO KIHON WAZA KEIKOHO
Kendo Principles VI explains the "Bokuto ni Yoru Kendo Kihon Waza Keikoho" ("Basic Kendo Techniques Training Method with the use of Bokuto") in details. It is a perfect source to learn this Training Method correctly, for daily practices or last minute preparation for Dan promotion examinations. This DVD illustrates correct examples, and incorrect moves which are common to new students.
This DVD can also be a useful source for self training guide for Kenshis who want to learn the proper "Bokuto ni Yoru
Kendo Kihon Waza Keikoho" in depth. Dojo Instructors can also take full use of this DVD as an additional instructional
material for their students. In various part of the DVD, we explain the teaching method, and Key points of each moves.
Kendo Principles VI is all narrated in English, for easy understanding and the camera is taken from various angles. Slow motion shots are also taken to illustrate correct and incorrect examples from different angles.
In the first section of the presentation, the DVD demonstrates the entire nine moves continuously. Then in the second section, it goes through each movements in details, showing the proper way, and pointing out the common mistakes.
This DVD explains the following in details:
– Bokuto ni Yoru Kendo Kihonwaza Keikoho fundamentals
– The purpose of learning the Bokuto ni Yoru Kendo Kihonwaza Keikoho
– Awareness during instruction
– Kamae, Reiho, Metsuke, Maai, Datotsu, Ashisabaki, Kakegoe, Zanshin
– Enter/Exit the Dojo
– Nine movements (Kihon 1 to 9)
– Improvement Tips
"I started Kendo in Brazil in 1975, and since then I have visited many different Dojos all over the world. I was very fortunate to have been taught by many different Senseis, who were all great instructors. They taught me not only Kendo techniques, but also the fundamentals of human character. I would like to thank all my Senseis and fellow Kenshis, who had the patience to practice Kendo with me.Many people asked me if there is a good instructional Kendo DVD in languages other than Japanese, and I was not successfulfinding one. This is the reason I decided to develop one myself, with the hope that it will help many people interested in Kendo outside of Japan. This DVD is based on what I have learned and developed during the 36 years of my Kendo career. My Kendo knowledge is not any close to perfect, however I have tried my best to introduce everything I know, and what I have been taught. I am open to any comments or suggestions, in order to improve the quality in the next editions of this DVD series."
Taro Ariga (Kendo Kyoshi 7th Dan)
KAKARITE: TARO ARIGA (KENDO KYOSHI 7TH DAN)
MOTODACHI: TAKESHI ICHIBA (KENDO 6TH DAN)
NARRATION IN ENGLISH BY TARO ARIGA
SUBTITLE BY TARO ARIGA (ENGLISH), TAKESHI ICHIBA
(JAPANESE), CARLOS HORITA (SPANISH), JORDAN SU LIU
(CHINESE), NUNO SERRANO (PORTUGUESE)
EQUIPMENT BY E-BOGU.COM, INC.
FILMED AT BUTOKUDEN DOJO
MUSIC SELECTION BY KOBY SHIMADA
WRITTEN BY TARO ARIGA
CAMERA AND EDITION BY KOBY SHIMADA KOBY PICTURES
What is Martial arts ?
Martial arts are codified systems and traditions of combat practiced for a number of reasons such as self-defense; military and law enforcement applications; competition; physical, mental, and spiritual development; entertainment; and the preservation of a nation's intangible cultural heritage.
Kendo Principles – Bokuto Ni Yoru Kendo Kihon Waza Keikoho By Taro Ariga