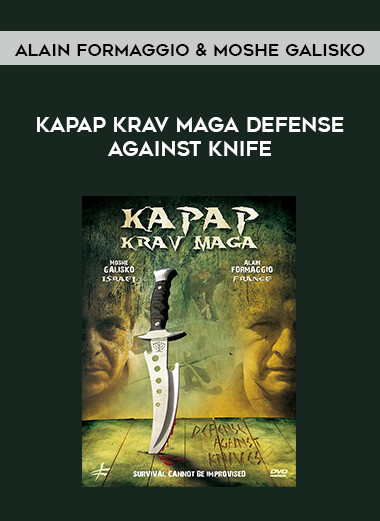 Kapap Krav Maga Defense against knife By Alain FORMAGGIO & Moshe GALISKO
Salepage : Alain FORMAGGIO & Moshe GALISKO – Kapap Krav Maga Defense against knife

KAPAP – KRAV MAGA Defense against knife By Alain FORMAGGIO (France) & Moshe GALISKO (Israel) SURVIVAL CANNOT BE IMPROVISED Kapap and krav maga are two combat methods of the Israeli Army. KAPAP: Krav Panim El Panim which means "face to face combat". Krav Maga: means Close Combat. In this DVD, you will learn how to defend yourself vs knife attacks thanks to Kapap and Krav Maga. Learn to control and to disarm a knife from your assailant. The detailed explanations and the different shot angles will help you to learn the techniques. Use your environment, usual objects, defending yourself vs short or long distance threats, round attacks, side and diving attacks, face, back or throat threats … All the situations are shot in the street for a 100% realism. Kapap and Krav Maga won't have any secret for you anymore! Moshe Galisko (Israel) has been practicing martial arts for the last 47 years. He teaches the military elite and works with counterterrorist Agencies around the world. He succeeded his father and developed Modern Kapap style all over the world. He is: President and chief instructor of the International Kapap Association, Chairman of the Israeli and European Karate Organization (8th Dan Shotokan Karate), Head of Israeli Martial Arts Center (Beersheva), Former instructor for Israel's Special Forces team, Instructor for CQB- Defensive Tactics. Alain FORMAGGIO has been a policeman for 30 years, chief instructor of the training Center for Armed Forces in Paris (France), World Technical Director for the World Krav Maga Federation, World Technical Director and 8th Dan expert of the International Federation of Armed Forces and Security Technician,
Add. Information : With all due respect to the masters, I must sadly state that there are too many very controversial techniques in this film, and sometimes they do not work at all, or are extremely dangerous for the performer himself.
Language : French / German / Italian / English / Spanish / Hebrew
What is Martial arts ?
Martial arts are codified systems and traditions of combat practiced for a number of reasons such as self-defense; military and law enforcement applications; competition; physical, mental, and spiritual development; entertainment; and the preservation of a nation's intangible cultural heritage.
Kapap Krav Maga Defense against knife By Alain FORMAGGIO & Moshe GALISKO