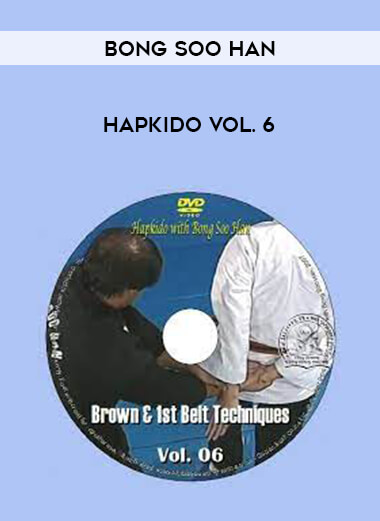 Hapkido Vol. 6 By Bong Soo Han
Salepage : Bong Soo Han – Hapkido Vol. 6

*HDA Approved*Note: The video "Hapkido – Red Belt" (not Red Belt First Stripe) is FAULTY.
Also, there is no DVD 11 in this, "20th Anniversary Demo and Interview", which is more of a general theme than an instructional video anyway.
Sometimes the videos (except for the faulty Red Belt video) may seem to "freeze" or they're silent for several seconds; this is normal and it's as intended however, as you will see if you rewind or forward around half to a minute.
BiographyGrand Master Bong Soo Han was the world's foremost practitioner of Hapkido and he is referred to as the Father of Hapkido in the Western World.
As one of the original senior students of the Founder of Hapkido, Yong Sul Choi, he led a dedicated effort in the development of Hapkido as it is known today.
He taught thousands of loyal students throughout his life with many becoming masters themselves.
Other masters across all styles have sought out his wisdom and teachings.
Grand Master Han studied and refined this powerful Korean martial art for more than 60 years.
Up to the time of his death, he held the rank of 9th Dan Black Belt.
He founded and presided over the International Hapkido Federation.
DescriptionThe father of Hapkido in America, Master Bong Soo Han instructs in this 11 vol set on the Korean art of Hapkido.
Includes:
Vol 6: Brown Belt Techniques: – Teaches nine dynamic kicking combinations, plus advanced Hapkido self defense against various garment holds.
What is Martial arts ?
Martial arts are codified systems and traditions of combat practiced for a number of reasons such as self-defense; military and law enforcement applications; competition; physical, mental, and spiritual development; entertainment; and the preservation of a nation's intangible cultural heritage.
Hapkido Vol. 6 By Bong Soo Han