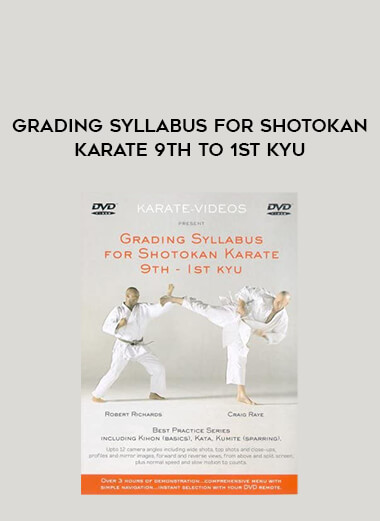 Grading Syllabus for Shotokan Karate 9th to 1st Kyu
Salepage : Grading Syllabus for Shotokan Karate 9th to 1st Kyu

* The menus are all in English, though as Karate originates from Japan, the names of the routines (Kata) and counting (1, 2 ,3 etc) is often done in Japanese, hence this has been recorded as the official DVD language.
'Grading Syllabus for Shotokan Karate 9th-1st Kyu' by Karate-Videos presents, as the title would suggest, the grading syllabus for beginners, up until they get to put that beautiful silk belt around their waist.
This DVD is demonstrated by Craig Raye, the late Sensei Enoeda's club dojo captain for 10 years and his sparring partner Robert Richards who also trained under Sensei Enoeda, Kawasoe and Ohta.
For me, the beauty of this DVD lies in its format. By the simple flick of your DVD remote you will have access to demonstrations in Basic Kihon drills, kata and kumite, by Raye and Richards. For the beginner this will provide an interesting insight into the future development they will follow as they move through the grade ranks.
What makes this DVD that little bit different from the rest is the excellent use of camera angles. Most DVDs provide the standard angle, from the front, sometimes from the rear and occasionally from the side. This DVD however provides up to 12 different angles of viewing including Wide Shots, top shots, close ups, profiles, mirror images, forward and reverse views, from above ad split screen.
This makes viewing excellent in that you can study the parts you are interested in, completely under your command. You can choose the way you view it, which naturally translates to you learning in the way you wish to. This is an excellent bonus for me.
As with all of the Karate-Videos, this DVD combines the excellent format along with a beautiful set up. The footage is shot from a sterile white room, which interestingly ensures 100% of your attention is on the karate rather than on the sometimes-awful décor that you can sometimes see in Karate Videos. Call me weird, but this type of thing is very important and definitely ups the standard of the production.
This DVD includes:
• Kata Kihon
• Heian Shodan
• Heian Nidan
• Heian Sandan
• Heian Yondan
• Heian Godan
• Tekki Shodan
• Bassai Dai
Language: English
What is Martial arts ?
Martial arts are codified systems and traditions of combat practiced for a number of reasons such as self-defense; military and law enforcement applications; competition; physical, mental, and spiritual development; entertainment; and the preservation of a nation's intangible cultural heritage.
Grading Syllabus for Shotokan Karate 9th to 1st Kyu