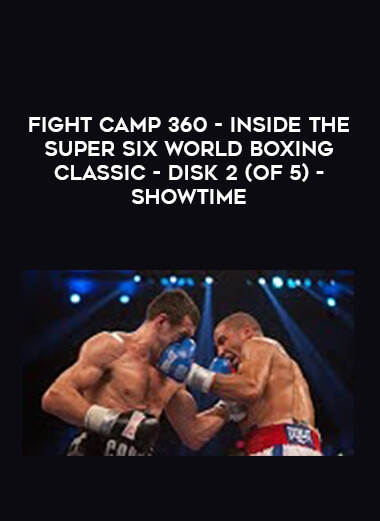 Fight Camp 360 – Inside The Super Six World Boxing Classic – Disk 2 (of 5) – Showtime
Salepage : Fight Camp 360 – Inside The Super Six World Boxing Classic – Disk 2 (of 5) – Showtime

Fight Camp 360 – Inside The Super Six World Boxing Classic – Disk 2 (of 5)  – Showtime (NTSC)
Source: HD Files
Video Quality: Very Good
Audio Quality: Good
Language: English
Entrances: no
Intros: no
Between rounds: no
Post Interviews: no
Fight Camp 360 – Inside The Super Six World Boxing Classic – Disk 2 (of 5)
These disks were made from HD caps.
Menu Screenshot:
Contents:
Promo 2 (2 minutes & 23 seconds)
Episode 4 (25 minutes & 38 seconds)
Episode 5 (29 minutes & 23 seconds)
Screenshots:
Enjoy
What is Martial arts ?
Martial arts are codified systems and traditions of combat practiced for a number of reasons such as self-defense; military and law enforcement applications; competition; physical, mental, and spiritual development; entertainment; and the preservation of a nation's intangible cultural heritage.
Fight Camp 360 – Inside The Super Six World Boxing Classic – Disk 2 (of 5) – Showtime