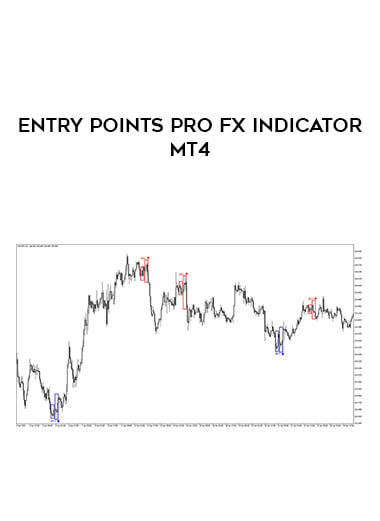 Entry Points Pro Fx Indicator MT4
Salepage : Entry Points Pro Fx Indicator MT4

Entry Points Pro Indicator is a Non-Repaint trading system usually being sold for 125$. This free Fx indicator analyzes the price behavior on the chart every second and determines the ideal entry points based on the built-in algorithm, informing you when you need to open a deal and close it to take profit.
Itcatches very fast and profitable price movements and gives you easy BUY/ SELL signals. Every trading signal is very carefully verified by the system to produce only the highest probability trades.
Entry Points Pro system can give you trading signals you can take as they are or add your additional chart analysis to filter the signals further, which is recommended. While traders of all experience levels can use this system, it can be beneficial to practice trading on an MT4 demo account until you become consistent and confident enough to go live.
Features
You can set the Entry Points Indicator to send you a signal alert. This is helpful as it means you do not need to stare at the charts all day waiting for signals to appear, and you can monitor multiple charts all at once.
Entry Points Pro Indicator System can be used on any Fx currency pair and other assets such as stocks, commodities, cryptos, precious metals, oil, gas, etc. You can also use it on any time frame that suits you best, from the 1 minute through to the 1-month charts.
An example of a trade based on the Entry Points Pro indicator:
https://www.youtube.com/watch?v=M0fNtiJqYCE&t=30s
What is forex trading?
Forex, or foreign exchange, can be explained as a network of buyers and sellers, who transfer currency between each other at an agreed price. It is the means by which individuals, companies and central banks convert one currency into another – if you have ever travelled abroad, then it is likely you have made a forex transaction.
While a lot of foreign exchange is done for practical purposes, the vast majority of currency conversion is undertaken with the aim of earning a profit. The amount of currency converted every day can make price movements of some currencies extremely volatile. It is this volatility that can make forex so attractive to traders: bringing about a greater chance of high profits, while also increasing the risk.
Entry Points Pro Fx Indicator MT4