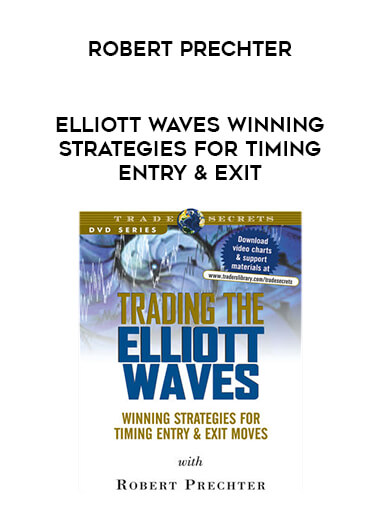 Elliott Waves Winning Strategies for Timing Entry & Exit By Robert Prechter
Salepage : Robert Prechter – Elliott Waves Winning Strategies for Timing Entry & Exit

Product Description
Gain unparalleled insight into using the power and performance of wave theory to precisely time your market moves, with Robert Prechter's groundbreaking new workshop. The NY Times bestselling author and "Trader's Hall of Fame" winner presents 2 hours of thought-provoking techniques and startlingly accurate strategies that will help you harness the predictable signals in the marketplace, and use them to your trading advantage. This all-encompassing technical approach to reading and trading the markets has proved consistently successful over decades, in good times and bad.
Be it bear or bull market – no one is more renowned at educating the investing public on the "wave" technique than The Elliott Wave Theorist's Bob Prechter. In clear, concise, and convincing terms he presents: – The basics of Wave Forms – How to apply the 5-part Wave pattern to a variety of indices – Keys for identifying market lows ripe for buying (or covering shorts) and market highs suitable for selling. 
What is forex trading?
Forex, or foreign exchange, can be explained as a network of buyers and sellers, who transfer currency between each other at an agreed price. It is the means by which individuals, companies and central banks convert one currency into another – if you have ever travelled abroad, then it is likely you have made a forex transaction.
While a lot of foreign exchange is done for practical purposes, the vast majority of currency conversion is undertaken with the aim of earning a profit. The amount of currency converted every day can make price movements of some currencies extremely volatile. It is this volatility that can make forex so attractive to traders: bringing about a greater chance of high profits, while also increasing the risk.
Elliott Waves Winning Strategies for Timing Entry & Exit By Robert Prechter