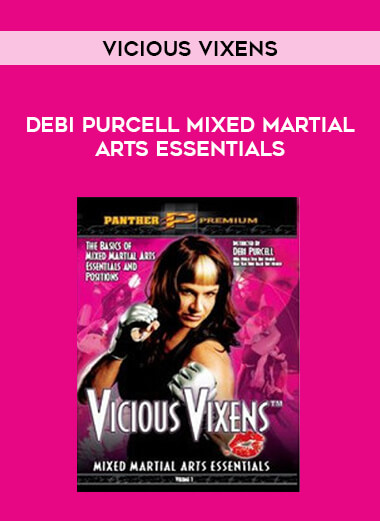 Debi Purcell Mixed Martial Arts Essentials By Vicious Vixens
Salepage : Vicious Vixens – Debi Purcell Mixed Martial Arts Essentials

Debi Purcell is a professional mixed martial arts fighter and is known for being a pioneer for women's MMA. She is one of the few to hold a black belt in Ruas Vale Tudo and has trained in fitness and Martial Arts for over fifteen years.Debi has wins in KOTC, Hook N Shoot and is a UWM world title belt holder, TKD Black Belt champion and as of 2005, is still undefeated in MMA. She is the founder of fightergirls.com, WMAA (Women's Martial Arts Association) and Cardio Strike. More important than anything else is Debi's commitment and determination to breaking the barrier of women competing and fighting in the Martial Arts.Four volumes to choose from.
Volume 1:Essentials and Positions This program shows the BASIC and fundamental moves and positions of Mixed Martial Arts training. Approx. 58 min.
Volume 2:Attacks and Positions This program is a take off from the Volume 1 program. It includes instruction on high kick and mid kick. Punch and kicking combos on bag and on person. Punch kick drills. Approx. 69 min.
Volume 3:Defense and Escapes This program continues the essentials from previous program's #1 and #2. Its focus is on defense and escapes. Approx. 57 min
Volume 4:Fast Submission From Every Position Includes: take down from back into reverse heel hook, flying triangle off of single leg defense.Approx. 50 min
"
What is Martial arts?
Martial arts are codified systems and traditions of combat practiced for a number of reasons such as self-defense; military and law enforcement applications; competition; physical, mental, and spiritual development; entertainment; and the preservation of a nation's intangible cultural heritage.
Debi Purcell Mixed Martial Arts Essentials By Vicious Vixens