ConversionXL, Tom Breeze – Youtube Ads
ConversionXL, Tom Breeze – Youtube Ads
Arichive : ConversionXL, Tom Breeze – Youtube Ads
Turn YouTube into a reliable, automatic source of profitable traffic
YouTube's ad platform has been hiding in plain sight for many marketers. We're talking over 1.3 billion users, over 5 billion views / day, with an average session lasting over 40 minutes. What's more? YouTube ads enable you to advertise to intent.
So why aren't more marketers taking advantage of this profitable channel?
This course will teach you how to target the right people in the right way on YouTube. You will learn how to structure your YouTube ad campaigns and scale them once they start working.
You'll find out what kind of video ads actually work – based on years of testing and experience. You'll also get step-by-step guidelines for creating your own YouTube Ads – and learn tactics you've likely never considered before.
Everything you will discover in this course has been tested, proven and it actually works.
Introduction video (1 min)
In just 3 hrs, you'll learn how to…
Find your future customers on YouTube
Use a 7-step method for creating perfect video ads
Identify and scale the best keywords for your business
Understand how to get YouTube's A.I. working for you (and when to use it)
Diagnose and fix any campaign problems you might run into
Anthony T.
Excellence Manager @ Spotahome
Spain
Using the techniques and strategies in CXL, I now have a method and foundation to support my work.
It gives me the confidence to believe I am moving in the right direction, that I am investing my time effectively and efficiently (AKA not guessing anymore).
Sophie D.
CRO Specialist @ Spiralyze
US
CXL has been a fantastic resource – the courses are extremely practical, rather than simply offering theory.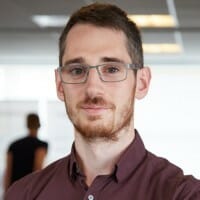 Bjørn S.
CMO @ Trendhim
Denmark
I thought I was quite proficient at analytics, but taking this course was a huge, well-deserved slice of humble pie.
It took me from the top of mount stupid, down into the valley of despair, and across to the foothills of the slope of enlightenment. Worth the time.
Start getting a strong ROI with YouTube ads
While companies are all in with PPC ads, so many marketers are still ignoring YouTube. What they don't know is that there's a huge audience waiting on YouTube, ready to engage and make a purchase.
People don't just go on YouTube because they're bored; they go on YouTube to learn something, do something, and most importantly – buy something.
Get in front of your ideal customers at exactly the right moment.
Consumers are turning to YouTube to search for product reviews to help them make purchase decisions. For marketers, that's the perfect time to get in front of prospects: when they're looking at your competitors. That's the time to show them your offer.
This course combines psychological research and time-tested tips to give you the ins and outs of YouTube advertising, including finding "selling moments", capitalizing on timing, varying ads based on customer types, maximizing reach, perfecting the creative, and so much more.
This course is right for you if you are…
Looking to add YouTube into your ad channel marketing mix
Already running YouTube ads, but not having much success with it
Want to acquire more customers profitably
This course is NOT for you if you…
Have no plans to advertise on YouTube
Are already a pro at this and getting a lot of success
Skills you should have before taking this course
While this course is perfectly suitable for people new to YouTube advertising, previous experience with the Google Ads platform would be a benefit. YouTube ads engine is essentially Google Ads – and so has the same targeting capabilities.
Readmore About : Tom Breeze