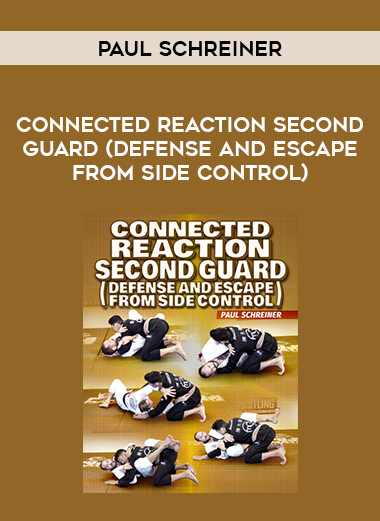 Connected Reaction Second Guard (Defense and Escape from Side control) By Paul Schreiner
Salepage : Paul Schreiner – Connected Reaction Second Guard (Defense and Escape from Side control)

Master the Technical Secrets of the "Second Guard" with One of the Most Respected HIgh-Level Instructors in BJJ, Paul Schreiner!
Paul Schreiner is responsible for the development of several high-level BJJ athletes and well-known for his teaching and guidance as an instructor at the legendary Marcelo Garcia Academy in NY
Use the side control position as a "second guard" to frustrate, shut down your opponent's attacks, and ultimately escape, re-establishing good position
Learn dynamic lower body dominant strategies to transform your bottom side control into a secondary system of defense
Recognize windows of escape and capitalize with technical details from Schreiner's personal arsenal of techniques
PART 1
INTRODUCTION
SECOND GUARD
HANDS
FRAMES
UNLOCKING SIDE CONTROL
THE IMPORTANCE OF ESCAPING TO CLOSED GUARD
GENERAL ARM SAFETY
BASIC ESCAPE TO CLOSED GUARD PART 1
SEATED GUARD RECOVERY
HIGH GUARD RECOVERY
ESCAPING TO SHIN ON BICEPS
BENT ARM FRAMES UNLOCKING HEAD CONTROL 1
HARPOON SWEEP
FREEING THE HEAD MARCELO GARCIA FRAME
PART 2
SHOULDER FRAME TO CLOSED GUARD
SHOULDER FRAME SPIN OUT
UNDERHOOK OVERVIEW
UNDERHOOK TO SINGLE LEG
UNDERHOOK TO SHELF
UNDERHOOK TO HALF GUARD
HIGH UNDERHOOK
HIGH UNDERHOOK TO CRUCIFIX
UNLOCKING KESAKATAME
STAYING SAFE IN KESA
SEESAW ESCAPE
NEAR SIDE COLLAR PUSH
TURN OUT ESCAPE
ESCAPING KESA 2
KESA TO THE BACK
KESA HIP SHOVEL LUKE STEWART FLIP
PART 3
WINDOWS OF ESCAPE
GUARD RECOVERY
ELBOW PUSH
FORCED ELBOW PUSH
ANCIENT GREEK ATTACK
ELBOW PUSH TO BACK ROLL
ELBOW PUSH TO MINI HIP THROW
FAILED ELBOW PUSH RECOVERY OPTIONS
SIT UP FRAME
PART 4
EARLY SECOND GUARD
KEEPING YOUR OPPONENT LOW
KNEE ON BELLY
PREVENTION
BRIDGE ESCAPE
HALF GUARD RECOVERY
UNDERCUTTING THE FOOT
UNDERCUT TO REVERSE LOCKDOWN
CLEANING UP
MOUNT
INSERTING THE MOUNT FROM SIDE CONTROL
DEFENDING OPPORTUNISTIC MOUNT
NORTH SOUTH
INSIDE FRAMES
NO FRAMES
1 & 1
What is Martial arts ?
Martial arts are codified systems and traditions of combat practiced for a number of reasons such as self-defense; military and law enforcement applications; competition; physical, mental, and spiritual development; entertainment; and the preservation of a nation's intangible cultural heritage.
Connected Reaction Second Guard (Defense and Escape from Side control) By Paul Schreiner