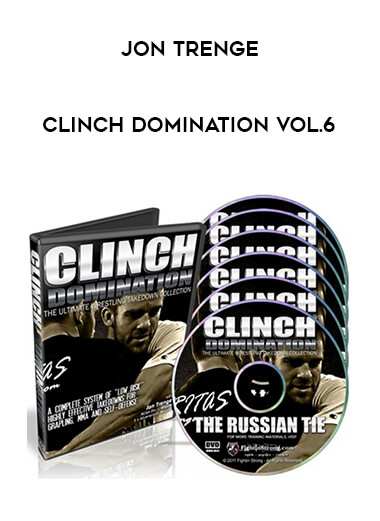 Clinch Domination Vol.6 By Jon Trenge
Salepage : Jon Trenge – Clinch Domination Vol.6

DISC-6: RUSSIAN TIE AND RANDOM ATTACKS
Highlights Of This DVD Include:
RUSSIAN TIE: More tricks of the trade for the Russian Tie setup.    RUSSIAN TIE 2: This will make the Russian Tie your go-to position!    STANDING LEG ATTACK: Attack your opponent's legs and disrupt his base.    THAI COUNTER & LEG ATTACK: Adapt your wrestling for MMA and take down the Thai fighters.    COLLAR TIE COUNTER TO ARM THROW: When your opponent grabs a collar tie, it's a great opportunity to throw him!    SNAP DOWN & FRONT HEADLOCK: Positional dominance will be a breeze with this setup!    CEMENT JOB: Talk about devastating your opponent! This is the way to do it!    SHORT DRAGS: Jon will have you as an arm drag master!
What is Martial arts ?
Martial arts are codified systems and traditions of combat practiced for a number of reasons such as self-defense; military and law enforcement applications; competition; physical, mental, and spiritual development; entertainment; and the preservation of a nation's intangible cultural heritage.
Clinch Domination Vol.6 By Jon Trenge