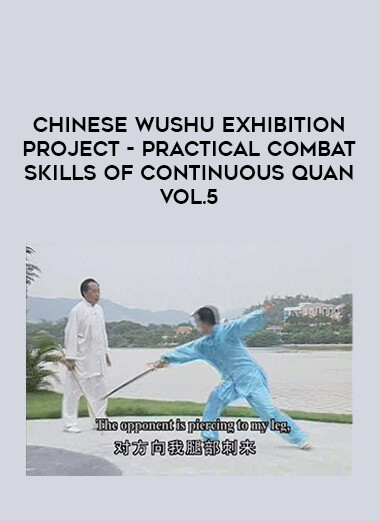 Chinese Wushu Exhibition Project – Practical Combat Skills of Continuous Quan Vol.5
Salepage : Chinese Wushu Exhibition Project – Practical Combat Skills of Continuous Quan Vol.5

Traditional Shan Xi style Xing Yi Quan Series DVD/DVDsThere are three main styles of Xing Yi Quan being practised today – the Henan style, the Hebei style, and the Shan Xi style.
The Shan Xi style has been recognized as the original style and one which keeps its vigorous and powerful energy releases inside its movements.
This series is part of the Chinese Wushu Exhibition Project Series DVDs, demonstrated and explained by Zhang Zigui, one of the top 100 Martial Arts Masters in present China.
The famous martial artist Wu Shi Jun presents the demonstration.
5.Practical Combat Skills of Continuous Quan (SXYD06) – 48 min.
Continuous Quan is one of the traditional routines of Xingyi Quan.
It's based on the theory of Five-elements, with a short and tightened frame, but powerful.
It features stepping forward or backward without a start or end, but they are linked up.
What is Martial arts ?
Martial arts are codified systems and traditions of combat practiced for a number of reasons such as self-defense; military and law enforcement applications; competition; physical, mental, and spiritual development; entertainment; and the preservation of a nation's intangible cultural heritage.
Chinese Wushu Exhibition Project – Practical Combat Skills of Continuous Quan Vol.5