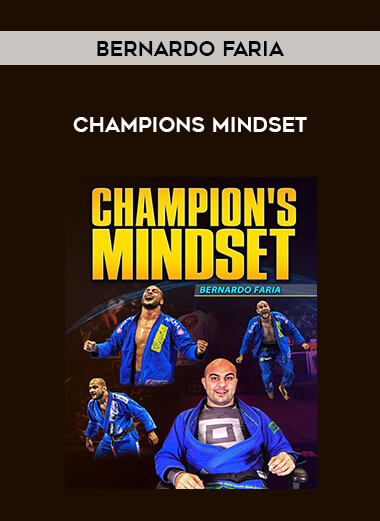 Champions Mindset By Bernardo Faria
Salepage : Bernardo Faria – Champions Mindset

Use these mental exercises and answers to common problems that Bernardo developed for huge success in training and tournament day
Learn what is going through Bernardo's mind during his fights, and how it can help you the next time you roll
Bernardo is one of the cofounders of BJJ Fanatics and is a five-time IBJJF World Champion, including winning the open class.
This is the first series of its kind where we explore the mental side of some of the best athletes in Brazilian Jiu-Jitsu
Part 1:
Intro
Mental Preparation Weeks / Months Before The Tournament
How to prepare your mind weeks/months before the tournament
How to prepare your mind in the week of the tournament
How to prepare your mind in the day of the tournament
Should we use a sports psychologist?
Should you study your opponents online? If so, what should you watch: Their instructional videos? Their competition matches? Or what else?
Part 2:
Mental Preparation In Training
Does it matter which academy we train at?
Should we choose who we will train with for every round in advance of class?
How to deal with losing rounds in training
How often should we lose rounds in training? Should we intentionally put ourselves in positions that need work without caring about winning or losing?
How should we train with lower level training partners?
Camps for tournaments on different schools: Good idea or bad idea?
How to choose training partners with only a few days left until the tournament?
Is it necessary to develop a game plan?
How to train for psychological toughness, to help to keep going when the body wants to stop?
What are the differences in training when preparing for a specific match and when preparing for a specific tournament?
Training off the mat: Should you run? Lift Weights? Functional Training?
How should we fund the athlete lifestyle: Should you have a job? What are the pitfalls of working where you train?
Specific training (Position training) vs Regular training & Drilling vs Not Drilling
Part 3:
Mental Preparation During The Tournament & During The Matches
What to eat on the day of the tournament
What warm ups should we do on the day of the tournament?
How to deal with the first match of the tournament, the one we normally have the most adrenaline. How to avoid gassing out and feeling the arms burning
How to prepare the mind between the matches in the tournament
Is it better to have an aggressive attacking approach or react to what your opponent gives you?
How to focus during the fight
How to manage the energy during the matches
Should we fight to win? Or should we fight not to lose?
Should we think a lot in a match or just flow with intuition and habit?
Should we use visualization techniques before a match?
Specific rituals & Superstitions
Confidence: Should we always know if we are going to win or do we think we can win, but that we can also lose?
Part 4:
Mental Preparation In General
Win, lose, or draw should we go back over of our fights and find things to improve?
How to deal with losses
How do we deal with injuries effectively?
How often should we replay scenarios on our heads, especially during the rest days
Can aggression be trained? And is it good to train aggression?
Tips to sleep better the night before the tournament
How to overcome adversities like personal problems and professional problems. How to stay focused when those happen
How to deal with adversity from family and friends who don't think BJJ is a good idea/career
How to invest on your career?
How to find inspiration
How to prepare for the weight cut if needed
How much focus in Jiu Jitsu is enough? Should you have other interests?
Conclusion
What is Martial arts ?
Martial arts are codified systems and traditions of combat practiced for a number of reasons such as self-defense; military and law enforcement applications; competition; physical, mental, and spiritual development; entertainment; and the preservation of a nation's intangible cultural heritage.
Champions Mindset By Bernardo Faria