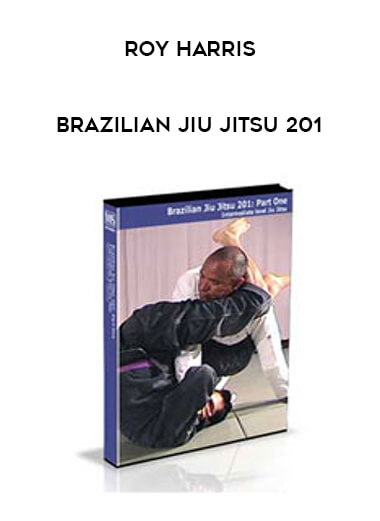 Brazilian Jiu Jitsu 201 By Roy Harris
Salepage : Roy Harris – Brazilian Jiu Jitsu 201

Here is an outline of Brazilian Jiu Jitsu 201: Part One:
1. Review:
Review what you know: begins with a quick review of twenty-one (21) basic techniques. Not much time is spent on the details because I assume that all beginning level students know these techniques. However, for those beginners who are curious about intermediate level Jiu Jitsu, these twenty-one techniques will help you understand where you should spend your time. These twenty-one will get you off to a good start and are shown to help you focus your training.
2. Refine and polish what you know:
Once the basics have been practiced, memorized and fully understood, the student should make an effort to refine what he or she knows so a more precise and well rounded game can be developed. For example, when the student understands there is a top and bottom game, they can examine each area of training and find out which one needs more work. Another example would be a larger, stronger and more athletic student who feels proficient with guard passing and side mount hold-downs, but knows his side mount escapes and guard control are lacking. With the awareness of a deficiency in his game, a plan can be made to strengthen the weaker areas. Students will be asked to know why they do what they do. They should know why they perform a movement in a particular way. Student should also know that each movement makes them vulnerable to another movement. Having this level of awareness is a requirement for intermediate level Jiu Jitsu.
3. Common mistakes:
I will share with you the most common training mistakes that beginners make. I will also explain why these errors inhibit their growth.
4. Theory:
Theory helps students understand the end from the beginning. I will explain intermediate level theory to help you understand how the basics lay the foundation for intermediate level, know what comes next, as well as how to make the basics work.
5. Counters :
Even though this is not a "counters" instructional, I will share some counters to the basics.
6. Combinations :
I will explain combinations: what they are and how to train them. I will also explain the different between arbitrary combinations and combinations based on positioning and pressure.
7. Timing :
This is THE MOST important area of training. This is the focus of intermediate level training. Developing a good sense of timing is what consumes the intermediate level player, not technique. Technique is no longer important. So, the journey of accumulating more and more technique ceases! In this portion of the instructional, I will explain what it is and how you should train it.
8. Positioning :
This is the SECOND MOST important area of training. I will explain what good positioning is, as well as how to train it. This section will blow your mind (because it's not what you think). Positioning has little to do with the mount, side mount or guard positions. Rather, it has everything to do with attention to detail on the precise positioning of your limbs in relation to your opponent's positioning. In order to accomplish such precise positioning, your level of awareness to your own movements must be very high, and, your awareness to your opponent's movements must also be high.
9. Grappling matches :
These matches will help exemplify the lessons taught in this instructional.
10. Extras :
I've added a few extras to make this instructional a little more informative and entertaining! I think you will like this section because it adds a personal touch to the whole project.
What is Martial arts ?
Martial arts are codified systems and traditions of combat practiced for a number of reasons such as self-defense; military and law enforcement applications; competition; physical, mental, and spiritual development; entertainment; and the preservation of a nation's intangible cultural heritage.
Brazilian Jiu Jitsu 201 By Roy Harris