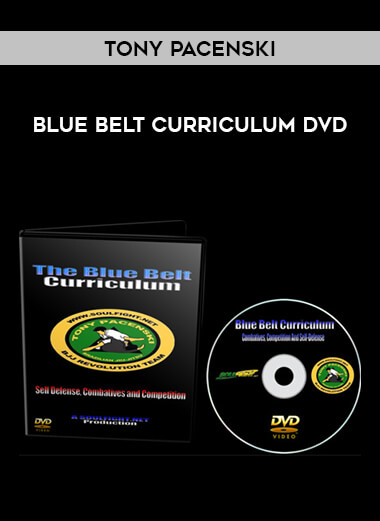 Blue Belt Curriculum DVD By Tony Pacenski
Salepage : Tony Pacenski – Blue Belt Curriculum DVD

"little" Tony explores the white to blue belt curriculum for Brazilian Jiu-Jitsu focusing on a strong foundation in the 3 aspects of the Art: Self-Defense, Street Combatives, and Sport Brazilian Jiu-Jitsu (Gi and No-Gi). Each section has the basic theory, philosophy and approach explained so each student can pursue future rankings and competitions.
This is the same curriculum "little" Tony uses for promotions of his students around the world.(Note this not a Brazilian Jiu-Jitsu blue belt testing course to get certified and ranked under the BJJ Revolution Team and/or Tony Pacenski)
Part 1 Solo Drills, Basic Movements of Brazilian Jiu-Jitsu and How to Tie One's Belt.
Part 2 Self-Defense Section 27 Techniques of Escape and Submission from the front, sides and back attacks.
Part 3 Self-Defense Section continued 29 Techniques of Escape, Submission and Weapons Disarmament from the Front, Sides, Back and Against a Wall.
Part 4 Stand-up Combatives, Clinches & Takedowns: 33 Overall Strategies and Techniques Explored.Part 5Sport Competition Strategies Stand Up: 10 Strategies in Starting a Match including Grip Fighting, Takedowns and Effective Pulling Guard.
Part 6 Ground- 36 Techniques and Strategies for Escaping the Mounted Position, Controlling the Top Cross Side Position, Learning to Mount, Maintaining the Mount, Effectively applying the Knee in the Belly, Controlling & Taking the Back Mount and Basic Control inside the Guard are explored in this section.
Part 7 Ground- 13 Techniques and Strategies for Passing the Closed Guard and Half Guard You Need to Know.
Part 8 Ground- 23 Overall Strategies and Techniques for Escapes from the cross side position bottom, Knee in the Belly, Back Mount, Footlocks and Chokes.
Part 9 Ground- 29 Escapes & Attacks Explored Overall. Escapes for the Triangle Choke, Sweeps from the Guard, Submissions from the Mount, Cross Side, Knee in the Belly and Guard.
Part 10 Ground- 29 Defenses and Attacks Explored Overall: Guard Attacks, Mount Attacks, Cross Side Attacks and Defenses Against a Striking Opponent for the Mount, Cross Side Bottom, Half Guard and From the Standing verses Seated Position.
Part 11 Ground- 10 Techniques and Strategies you Need to Know for Using your Guard Against a Striking Opponent Using Punches, Kicks, Headbutts and Elbow Attacks.
What is Martial arts ?
Martial arts are codified systems and traditions of combat practiced for a number of reasons such as self-defense; military and law enforcement applications; competition; physical, mental, and spiritual development; entertainment; and the preservation of a nation's intangible cultural heritage.
Blue Belt Curriculum DVD By Tony Pacenski