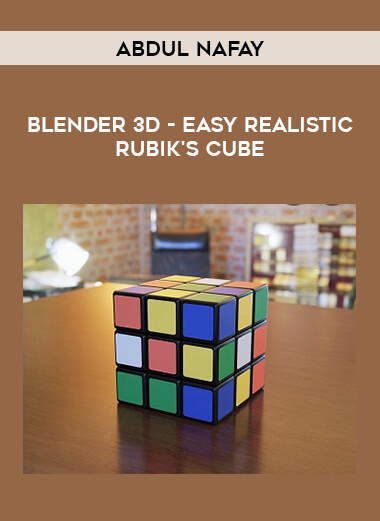 Blender 3D – Easy Realistic Rubik's cube by Abdul Nafay
Salepage : Blender 3D – Easy Realistic Rubik's cube by Abdul Nafay

Lessons in This Class
4 Lessons (34m)
Introduction
0:41
Modelling the Rubik's Cube
12:51
Texturing, Lighting and Rendering
17:56
Post Processing
2:59
All levels
16
Students
1
Project
About This Class
What's up nerds?
Welcome to my brand new blender tutorial in which we will learn how to create this Amazing realistic Rubik's cube scene. Now this tutorial is extremely easy and is made for blender beginners who have very little experience.
However, you will be expected to know the basics like navigating the viewport, moving, rotating and scaling stuff, using the edit mode etc.
In this tutorial, we're gonna be covering the basics of Modelling, Texturing, Lighting and Rendering in Blender so you can take your 3d art skills to the next level.
The good thing about this class is that this class will show you the raw process of a 3D artist in creating art. we will be solving all problems and making all creative decisions together!
So what are you waiting for? Just start this class today and take your blender skills to a whole new level!
Meet Your Teacher
Teacher Profile Image
Abdul Nafay Follow
Motion Graphic Artist
Teacher
I am Abdul Nafay (18) and I have been a (Freelance) Motion Graphic Artist for the past 3 years.
My goal on Skillshare is to teach you all about 3D Art, Graphic Designing and Freelancing so you can build an awesome career, so if you are into that kind of stuff, consider following and checking my classes out 🙂
PS: I also love burgers and coffee ;p
See full profile
Related Skills
Animation 3D Animation 3D Modeling Creative 3D Blender 3d Blender Tutorial
Hands-on Class Project
The project of this class is quite simple, yet very exciting!
You will create a Rubik's cube similar to the one which I showed in the class but you will add something extra or make some changes to the design, textures, lighting or camera angle so that you are actually learning and not blindly following a tutorial. One idea would be to make a 4×4 cube instead of the 3×3 which we made. There are absolutely no rules so you can be as creative as you want!
Trust me, when you complete this project, you will feel much more confident and comfortable in Blender!
When you are done, kindly upload your final render to the Project section of this class so I can give you feedback and suggestions.
Thank you!
What is Everything Else?
Everything Else is a product category on Amazon that is meant to be a catch-all for items that don't fit into any other categories. Over time, as the Amazon catalog has grown and more specific product categories have been added, Everything Else has become less useful and more of a junkyard for cast off and forgotten listings.
Until recently, however.
Why are items listed in Everything Else when they shouldn't be?
The answer to this is fairly simple. Some sellers are using Everything Else as an opportunity to get around Amazon's gated category requirements. For example, DVDs with an MSRP of over $25 are now gated  Selling certain products and bran… More and require permission to list. So we've seen some sellers create new listings in Everything Else to get around these requirements. We've noticed similar "workarounds" for other gated or restricted  Selling certain product categorie… More categories as well.
Amazon doesn't like this. It just makes the catalog more of a mess than it already is and ends up creating a worse customer experience.
Blender 3D – Easy Realistic Rubik's cube by Abdul Nafay