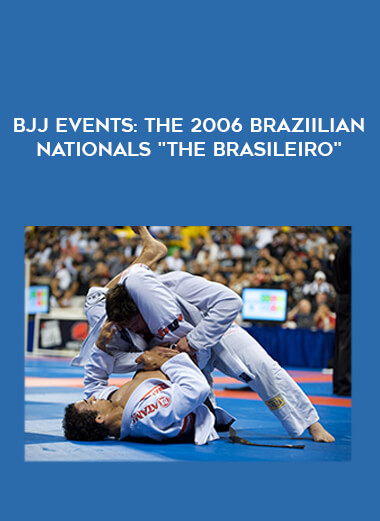 BJJ Events : The 2006 Braziilian Nationals "The Brasileiro"
Salepage : BJJ Events : The 2006 Braziilian Nationals "The Brasileiro"

New Page 1
The Brazilian National Jiu-Jitsu Championship 2006, or commonly know as Brasileiro 2006, one of the most exciting competition in the BJJ Calendar. In this exciting DVD fighters such as: Marcelo Garcia, Andre Galvao, Demian Maia, Jefferson Moura, Eduardo Telles, Rodrigo "Comprido" Medeiros and others together with the up and coming talents display their world class skills in this annual event.
FINAL MATCHES:
Rooster
Daniel Otero x Gabriel Moraes
Super Feather
Sebastian Lalli x Carlos Vieira
Feather
Jonatas Gurgel x Bruno Frazato
Light
Tiago Dias x Alexandre Pimentel
Middle
Marcelo Garcia x Andre Galvao
Medium Heavy
Romulo Barral x Fabio Trindade
Heavy
Eduardo Telles x Jefferson Moura
Super Heavy
Rodrigo Medeiros x Mauro Santos
Super Super Heavy
Luiz Theodoro x Adriano Camolesi
Open Class
Marcelo Garcia x Demian Maia
BEST FIGHTS:
Open Class
Alexandre Pimentel x Romulo Barral
Robert Fonseca x Eduardo Telles
Gustavo Gussem x Demian Maia
Roberto de Abreu x Marcelo Garcia
Ricardo Tavares x Andre Galvao
Fernando Di Piero x Eduardo Telles
Demian Maia x Romulo Barral
Andre Galvao x Eduardo Santoro
Adriano Camolesi x Marcelo Garcia
Fernando Di Piero x Demian Maia
Andre Galvao x Marcelo Garcia
Paulo Roberto x Gustavo Gussem
Adriano Camolesi x Valdenisio da Silva
Light
Rafael Barbosa x Tiago Alves
Alexandre Pimentel x Diego Martins
Middle
Valdenisio da Silva x Andre Galvao
Gustavo Campos x Marcelo Garcia
Jorge Brito x Andre Galvao
Rafael Abi-Rihan x Fabio Trinidade
Medium Heavy
Demian Maia x Romulo Barral
Heavy
Rigoney Castro x Eduardo Telles
Thiago Gaia x Jefferson Moura
What is Martial arts ?
Martial arts are codified systems and traditions of combat practiced for a number of reasons such as self-defense; military and law enforcement applications; competition; physical, mental, and spiritual development; entertainment; and the preservation of a nation's intangible cultural heritage.
BJJ Events : The 2006 Braziilian Nationals "The Brasileiro"