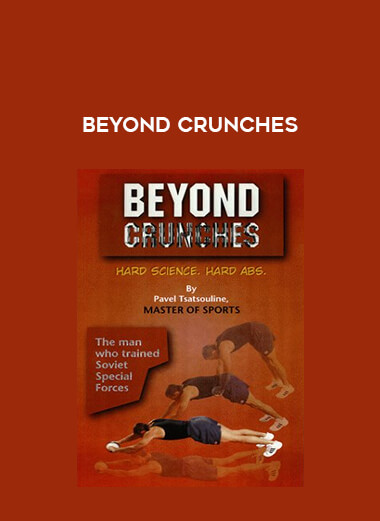 Beyond Crunches
Salepage : Beyond Crunches

Pavel Tsatsouline
Beyond Crunches Hard Science Hard Abs
Possess a maximum impact training tool for the worlds most effective abs, no question. Includes detailed follow-along instructions on how to perform most of the exercises described in the companion book, Beyond Crunches. Demonstrates advanced techniques for optimizing results with the Ab Pavelizer. As a former Soviet Union Special Forces conditioning coach, Pavel Tsatsouline already knew a thing or two about how to create bullet-stopping abs. Since then, he has combed the world to pry out this select group of primevally powerful ab exercisesguaranteed to yield the fastest, most effective results known to man.
Fry your abs without the spine-wrecking, neck-jerking stress of traditional crunches. No onebut no onehas ever matched Bruce Lees ripped-beyond-belief abs. What was his favorite exercise? Here it is. Now you can rip your own abs to eye-popping shreds and reclassify yourself as superhuman.
Russian fighters used this drill, The Full-Contact Twist, to increase their striking power and toughen their midsections against blows. An awesome exercise for iron-clad obliques. Rapidly download extreme intensity into your situpswith explosive breathing secrets from Asian martial arts.
Employ a little-known secret from East German research to radically strengthen your situp. Do the right thing with "the evil wheel", hit the afterburners and rocket from half-baked to fully-fried abs. "Mercy Me!" your obliques will scream when you torture them with the Saxon Side Bend. How and why to never, never be nice to your abs and why theyll love you for it. A complete workout plan for optimizing your results from the Janda situp and other techniques.
What is Health & Fitness ?
Walking, lifting weights, doing chores – it's all good. Regardless of what you do, regular exercise and physical activity is the path to health and well-being. Exercise burns fat, builds muscle, lowers cholesterol, eases stress and anxiety, lets us sleep restfully. In this guide, we match resources to your exercise needs — at every fitness level.
Beyond Crunches