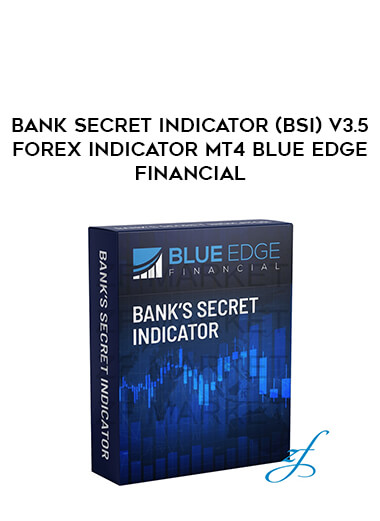 Bank Secret Indicator(BSI) V3.5 Forex Indicator MT4 Blue Edge Financial
Salepage : Bank Secret Indicator(BSI) V3.5 Forex Indicator MT4 Blue Edge Financial

Product Description
The Bank's Secret Indicator works on these assumptions… We realize that 95% of retail traders are NET-losers. 
While the "Smart Money" or Bank's are almost always NET-winners…
So wouldn't it make sense to trade opposite of the "herd" or losing retail traders?
Of course! It makes total sense… However the challenge is finding the true market sentiment of the "herd" (retail traders).
The Bank's Secret Indicator pulls in data from hundreds of thousands of retail traders to show you the overall market sentiment. Basically shows you what the "herd" is doing so you can do the opposite!
Next, the Bank's Secret Indicator allows you to simply assess the overall market trend on different time frames without having to pull open a bunch of charts.
You've probably heard "the trend is your friend". And "you should only trade with the trend". We agree!
This feature shows you on each time frame whether the market is trending up or down.
You probably notice these big red and blue "zones" on the chart… This feature of the BSI (bank's secret indicator" shows strong areas of supply & demand where price has sharply bounced off of in the past… no more drawing subjective support and resistance zones!
One of the last helpful features of the BSI, is the on-chart risk calculator… Just decide what percentage of your account you'd like to risk and how far away your stop loss is from your entry price and the BSI will automatically calculate your lot size!
Format: EX4
ALL FILES WILL BE SHARED VIA EMAIL.
Please provide your EMAIL ADDRESS after payment
Lifetime access, you can download anytime.
There is no refund accepted after product is sent.
What is forex trading?
Forex, or foreign exchange, can be explained as a network of buyers and sellers, who transfer currency between each other at an agreed price. It is the means by which individuals, companies and central banks convert one currency into another – if you have ever travelled abroad, then it is likely you have made a forex transaction.
While a lot of foreign exchange is done for practical purposes, the vast majority of currency conversion is undertaken with the aim of earning a profit. The amount of currency converted every day can make price movements of some currencies extremely volatile. It is this volatility that can make forex so attractive to traders: bringing about a greater chance of high profits, while also increasing the risk.
Bank Secret Indicator(BSI) V3.5 Forex Indicator MT4 Blue Edge Financial