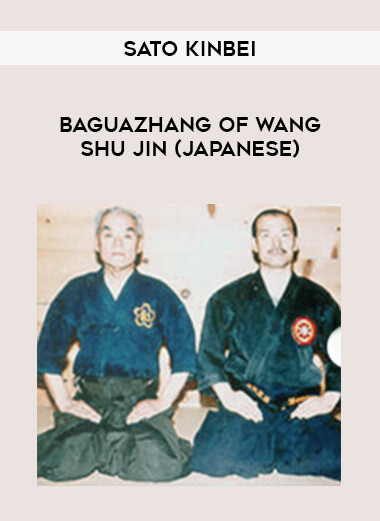 Baguazhang Of Wang Shu Jin (Japanese) By Sato Kinbei
Salepage : Sato Kinbei – Baguazhang Of Wang Shu Jin (Japanese)

The video its about training from basics to form practice and applications of the baguazhang of master Wang Shu Jin.
Footage of master Wang, Master Sato Kinbai and his disciple are parte of the video.
Language is in japanese but can learn well just from seeing.
A preacious jewel this video is.
Master Wang Shu Jin was the first person to transmit orthodox Chinese martial arts in Japan and his accomplishments in the spread of these arts in Japan deserve special mention.
According to the school entrance information which Master Wang himself wrote, he learned Hsing I Chuan and Ba Gua Zhang at a young age from Zhang Zhan Kui.
He learned Hsing-I Chuan and Bagua Zhang from his teacher friends and Li Cun Yi and Xiao Hai Po.
When Zhang Zhan Kui died, Wang Su Jin went on to learn Great Achievement post standing from Wang Xian Zhai and after which he crossed over to Taiwan with the Nationalist Party and he met Chen Pan-Ling who was also studying Hsing I under Li Cun Yi.
Chen Pan-Ling had been Vice-president of the Central National Martial Arts Center in Nanjing and was a leading figure in the Nationalist Party.
He is said to have known a great deal about different kinds of Martial Arts (Including Tai Chi) and had published numerous books.
Chen and Master Wang worked hard by competing with each other.
They created original Tai Chi.
Wang Shu Jin was the third-highest figure in a Taoist Sect called the Constant Path(Yi Guan Dao), this religion forbade him from eating meat or fish.
Hsing I Chuan, was created by Ji Long Feng.
He is said to have met a hermit on Zhong Nan Mountain and from this hermit he received martial teachings,which over the years he perfected.
Sato KunbeiSato Kinbei Sensei is important to our school as he was a teacher of Asayama Ichiden Ryu.
Daito Ryu Aikijujutsu and Chinese Martial Arts.
Born in 1925 in Fukushima prefecture, Japan.
He graduated from Tohoku University Department of Medicine with Ph.D.in medicine.Master of Traditional Japanese Martial Arts, 4th generation lineage holder in Ba Gua Zhang.
Interested in martial arts since childhood.
Began teaching arrest techniques to police officers at Japan Police College in1954.
Opened up his own dojo in Itabashi, Tokyo in 1958 which is still active today.
Positions held include Chairman of the All Japan Chinese Martial Arts Federation, Head of Japanese Daiwa-do Strategy Headquarters, Honorary Chairman of the Beijing Ba Gua Zhang Research Society, Honorary Advisor to the Eastern Chi Gung Society (Beijing), and Advisor to the Beijing Martial Chi Gung Society.
Published titles include Tai Chi Chuan, Ba Gua Zhang, Hsing I Chuan, Shaolin Boxing, Chi Gung, A History of Chinese Martial Arts, Practical Ba Gua Zhang, Practical Chin-na, Practical Pressure Points, and Yawara to Ken to Michi, as well as numerous essays.
He died in 1999 at Tokyo.
Sato Kinbei was proficient in the following arts:Japanese Arts:Daito-ryu Aiki Jujutsu, Araki Shin-ryu Jujutsu, Itten Ryushin Tyukai-ryu Jujutsu (Isshin-ryu, Ryushin Tyukai-ryu, Tenshin Shin Yo-ryu), Yagyu Shingan-ryu Heijutsu, Asayama Ichiden-ryu Taijustu, Kyuki Shin-ryu Bojutsu, Takagi Yo Shin-ryu Jujustu, Gikan-ryu Koppo, Takeda-ryu Aiki-no-Jutsu, and Kageyama-ryu Kenjutsu.
Chinese:Hsing I Chuan, Ba Ji Chuan, Ba Gua Zhang, Chen Pan-Ling Tai Chi Chuan, White Crane, and Fu Jian Province Shaolin Golden Hawk.
Of particular note, Sato Kinbei is the only 4th generation Ba Gua Zhang lineage holder in Japan.
What is Martial arts ?
Martial arts are codified systems and traditions of combat practiced for a number of reasons such as self-defense; military and law enforcement applications; competition; physical, mental, and spiritual development; entertainment; and the preservation of a nation's intangible cultural heritage.
Baguazhang Of Wang Shu Jin (Japanese) By Sato Kinbei