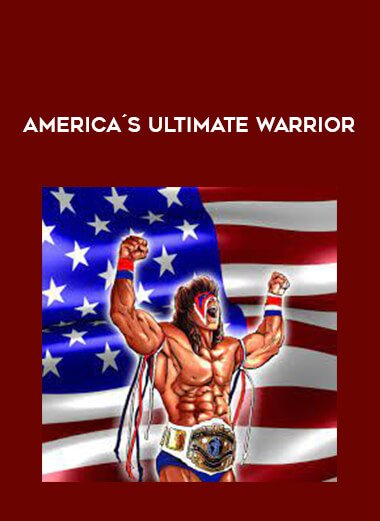 America´s Ultimate Warrior
Salepage : America´s Ultimate Warrior

This is a colection of America´s Ultimate Warrior.
All of 7 files have a good quality of image and sound.
Some are DVD rip and some are VHS rip.
The files are:-Handgun BasicsA complete guide to shooting both revolvers and semi-automatic handguns featuring NRA certified instructor Lenny Magill and his wife Tammy.
Covers everything you need to know about owning, operating and shooting accurately.
What's the difference between a single action and double action revolver? What's best for self defense…revolver or semi-automatic? What caliber is best for self-defense? What's the correct shooting stance? How do you aim, grip techniques, trigger pull and much more.
Excellent for men, women and juniors, beginner to advanced.
-Concealed CarryLenny Magill Productions is the world leader in the production and distribution of the highest-quality firearms related video programs.
Concealed Carry is the result of years of research and testing.
Magill shows you how to select, wear and draw from over 40 different concealment methods.
Plus, you'll see the world's most incredible display of concealed carry shooting.
-Move! Shoot! Live!Review: First, let me inform you that I have never been in a gunfight – thank God! And, I never want to be in a gunfight.
But for the past 6 years I've studied what happens in real gunfights: where, how and why people get shot.
This tape shows you what I have discovered in my studies…the key element that could greatly increase your chances of living is movement! Simply put, your first objective is to get out of the way of the gunfire…move and keep moving! You'll learn how to move, how to shoot on the move and why to practice movement for true self-defense shooting.
This program will help you take your self-defense mindset to the next level.
Includes actual gunfight footage, analyzed by Lenny Magill, showing the effects of movement and your survival.
-Mastering the AR-15The AR-15 rifle is one of the most popular battle rifles ever developed.
Lightweight, durable and extremely reliable.
Champion shooter and master gunsmith Jim Clark of Clark Custom Guns joins Lenny Magill in showing you complete disassembly and reassembly procedures as well as basic and advanced shooting techniques.
Grip, stance, trigger control, sight picture and 4 practical shooting positions.
You'll learn how to load, unload, and shoot at 25 yards to 150 yards with speed and accuracy.
Plus, see the awesome firepower the AR-15 is capable of delivering, how to fieldstrip, clean and lubricate, self-defense shooting positions and much more!-AR-15 CQBIt's an awesome weapon, designed uniquely for the dense jungles of Vietnam.
Lightweight and easy to shoot, with it's 30 round magazine and high velocity .
223 ammunition, the M-16/AR-15 is the ultimate close quarter combat weapon!! Able to cut through dense underbrush as well as everyday walls of drywall or stucco.
It even penetrates steel! No one can hide from this gun.
In this video, Lenny Magill demonstrates and discusses how to use the AR-15 for tactical self-defense.
You'll learn how to use and understand the AR-15 sights for CQC shooting, how to point shoot with this gun at distances of 5 to 50 yards, tactical self-defense shooting positions with and without cover, how to shoot on the move, as well as entering the "ways" of death…hallways, doorways and stairways.
Plus, see an impressive display of self-defense shooting and the incredible power of the AR-15.-J.
Clark Combat ShotgunCompetition practice is an excellent training ground for self-defense shooting techniques.
Jim Clark is one of the world's best all around practical competition shooters; equally adept at pistol, rifle and shotgun.
But, if you were to isolate one of his talents above all the rest, it would be his ability to handle, operate and shoot the combat shotgun.
Clark possesses an almost unnatural ability to shoot the shotgun both fast and extremely accurately.
In this program he discusses the modifications he has done to his shotgun and how to setup your shotgun, shooting on the move, basic and advanced reloading techniques, and the fundamentals of stance, grip, using the sights and trigger pull.
Plus, Jim Clark demonstrates some incredible shooting that will amaze and entertain you and your friends! Tactical Sniper ShootingIn this program Tubb details and describes the equipment needed to execute pinpoint accuracy at 50 to 200 yards.
You'll learn how to utilize ammunition, scopes and trigger control to be able to hit a quarter at 50 yards.
Tubb demonstrates a revolutionary sling technique and three different shooting positions.
If you want to shoot with precision at realistic law enforcement distances, this program is an excellent resource and an exceptional training aid.
What is Martial arts ?
Martial arts are codified systems and traditions of combat practiced for a number of reasons such as self-defense; military and law enforcement applications; competition; physical, mental, and spiritual development; entertainment; and the preservation of a nation's intangible cultural heritage.
America´s Ultimate Warrior