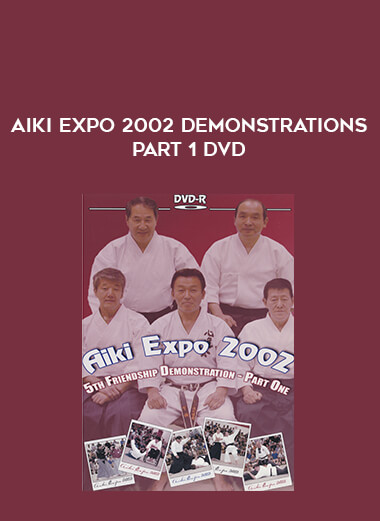 AIKI EXPO 2002 DEMONSTRATIONS PART 1 DVD
Salepage : AIKI EXPO 2002 DEMONSTRATIONS PART 1 DVD

The Aiki Expo 2002 featured demonstrations from some of the top teachers of Aikido and other arts.
Demonstrations include:
Tom Read – Founder of Aikibojitsu
John Goss – 5th dan Aikikai
Kayla Feder – 5th dan Aikikai
Yukio Utada – 7th dan Yoshinkan Aikido
Danielle Molles Smith – 5th dan Aikikai
Kenji Ushiro – Shihan Shindo Ryu Karate
George Ledyard – 5th dan Aikikai
Vince Salvatore – 5th dan Aikikai
Toby Threadgill – Shindo Yoshin Ryu Menkyo Kaiden
Robert Mustart – 6th dan Yoshinkai
Molly Hale – 3rd dan Aikikai
Katsuyuki Kondo – Daito Ryu Aikijujutsu Hombu Cho
Jamie Zimron – KiAi Golf – 5th dan Aikikai
Robert Nadeau – 7th dan Aikikai
Frank Doran – 7th dan Aikikai
Hans Goto – 6th dan Aikikai
Don Angier – Soke Yanagi Ryu Aiki Jiu Jitsu
Jim Stewart – 6th dan Yonshinkan Aikido
Julio Toribio – Founder of Seibukan Jujutsu
103 min.
What is Martial arts ?
Martial arts are codified systems and traditions of combat practiced for a number of reasons such as self-defense; military and law enforcement applications; competition; physical, mental, and spiritual development; entertainment; and the preservation of a nation's intangible cultural heritage.
AIKI EXPO 2002 DEMONSTRATIONS PART 1 DVD