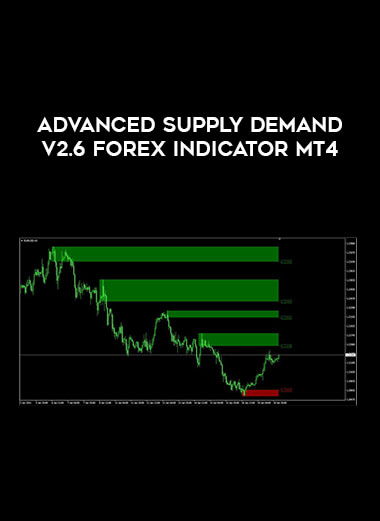 Advanced Supply Demand V2.6 Forex Indicator MT4
Salepage : Advanced Supply Demand V2.6 Forex Indicator MT4

Product Description
This indicator is a unique, high quality and affordable trading tool because we have incorporated a number of proprietary features and a new formula. With this update, you will be able to show double timeframe zones. You will not only be able to show a higher TF but to show both, the chart TF, PLUS the higher TF: SHOWING NESTED ZONES. All Supply Demand traders will love it. 🙂
Imagine how your trading will improve because you are able to pinpoint the exact trigger point of entry or target? Built on new underlying algorithms it makes it even easier to identify potential imbalances between buyers and sellers. This is because it graphically shows the strongest supply and demand zones and how it performed in the past (showing old zones). These features were designed to help make it easier for you to find the best entry zones and levels.
Advanced Supply Demand Indicator works on all products and timeframes. It is a new formula, and the very new features are two zone strength functions adjustable by user input! This is a great advantage in trading. When you learn how to use the proprietary features such as the zone strength with min X-factor of price travel away, you will be able to tell whether the zone is strong or not.
The supply and demand zones are used as an alert trigger. You have the choice of 3 alerts. If the price 1) enters the zone and/or 2) breaks the zone and/or 3) a reversal candle has formed from a zone. You can use popup alert with sound on MetaTrader 4 and/or push and/or email. When you will receive the alert you will know as a trader what to do.
The indicator can detect nested S/D zones!
A very powerful feature! The alert will tell if a S/D zone is nested (within) a higher timeframe S/D zone! All alerts can be filtered for nested zones.
What is forex trading?
Forex, or foreign exchange, can be explained as a network of buyers and sellers, who transfer currency between each other at an agreed price. It is the means by which individuals, companies and central banks convert one currency into another – if you have ever travelled abroad, then it is likely you have made a forex transaction.
While a lot of foreign exchange is done for practical purposes, the vast majority of currency conversion is undertaken with the aim of earning a profit. The amount of currency converted every day can make price movements of some currencies extremely volatile. It is this volatility that can make forex so attractive to traders: bringing about a greater chance of high profits, while also increasing the risk.
Advanced Supply Demand V2.6 Forex Indicator MT4