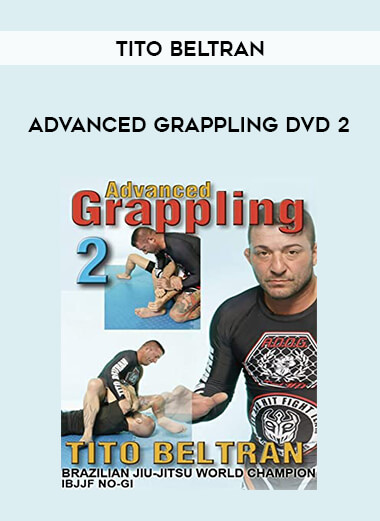 ADVANCED GRAPPLING DVD 2 By TITO BELTRAN
Salepage : ADVANCED GRAPPLING DVD 2 WITH TITO BELTRAN

Tito Beltrán, IBJJF NO-GI 2014 World Champion, and GI and NO-GI 2015 European Champion, teaches in this his first work a complete arsenal of advanced technical resources to defeat our opponent. In this series of two DVDs, Master Beltrán examines closely all the positions, crumbling each one both offensively and defensively, to secure them perfectly and attack from there with the greatest guarantees. You surely know all the techniques explained in this DVD, but the secret is that Tito applies them from any position; you will get into Arm locks, Leg locks, the Kimura and the "Mataleon" from positions that you didn't even know. You will be able to apply them when you train or compete, with GI or NO-GI, and even when MMA reach that point in which it's better to know submission techniques because blows are no longer effective. Spectacular tricks to improve your position and keep advancing, and of course, you will enjoy some of the most powerful Grappling finishing techniques, without losing a single ounce of effectiveness in MMA and BJJ matches. A DVD with advanced techniques, necessary for all those who want to delve into the ground fighting workout.
Vol.2: Offensive Crossed, Offensive mounted, X Guard – Passing the Guard and defensive and offensive work -, and attacks from the back.
Languages: English, Español, Italiano, Français
What is Martial arts ?
Martial arts are codified systems and traditions of combat practiced for a number of reasons such as self-defense; military and law enforcement applications; competition; physical, mental, and spiritual development; entertainment; and the preservation of a nation's intangible cultural heritage.
ADVANCED GRAPPLING DVD 2 By TITO BELTRAN