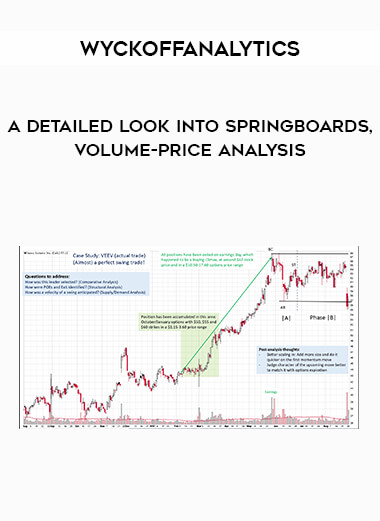 A Detailed Look Into Springboards, Volume-Price Analysis By Wyckoffanalytics
Salepage : Wyckoffanalytics – A Detailed Look Into Springboards, Volume-Price Analysis

COURSE DURATION
3 two-hour sessions
In March 2018, Wyckoff Method trader-educators Gary Fullett and Roman Bogomazov conducted three webinars on high-precision execution of Wyckoff trading strategies.
In our May 2019 Special, Gary and Roman continued their interactive instruction, taking a much deeper dive into some of the principles and applications presented previously, focusing on high-probability Wyckoffian structural points of entry and subtle nuances within Wyckoff's Law of Effort vs Result (aka Volume-Price Analysis). This course is intended to help Wyckoff traders capitalize on the opportunities created by the market operations of institutions.
Each of the videos has accompanying slides, which can be printed out to allow you to take notes on as you watch the presentations. You will have one full year from the date of purchase to view and review the videos.
Check the drop-down menu for BUNDLED COURSES!
A DETAILED LOOK INTO SPRINGBOARDS
VOLUME-PRICE ANALYSIS AND OTHER TOOLS OF WYCKOFF ANALYSIS
_______________________________________________________________
Our Policies
A. Product Quality
We ensure that the quality of the course is good, and we update them regularly to help you keep update.

If there is a problem you can not use, please let us know so we can fix it soon or if there is any notification, we will inform you immediately.
B. Shipping Method
After receiving your payment, we will send you a link to access and download the course. If our team is not in the office, please wait for us about 8 hours to come back.
C. Refund Policy
We do not accept refund after you got the link and download the course.

We will refund your money in case of:

Item is not as described

Item doesn't work the way it should

Item support extension can't used
What is forex trading?
Forex, or foreign exchange, can be explained as a network of buyers and sellers, who transfer currency between each other at an agreed price. It is the means by which individuals, companies and central banks convert one currency into another – if you have ever travelled abroad, then it is likely you have made a forex transaction.
While a lot of foreign exchange is done for practical purposes, the vast majority of currency conversion is undertaken with the aim of earning a profit. The amount of currency converted every day can make price movements of some currencies extremely volatile. It is this volatility that can make forex so attractive to traders: bringing about a greater chance of high profits, while also increasing the risk.
A Detailed Look Into Springboards, Volume-Price Analysis By Wyckoffanalytics