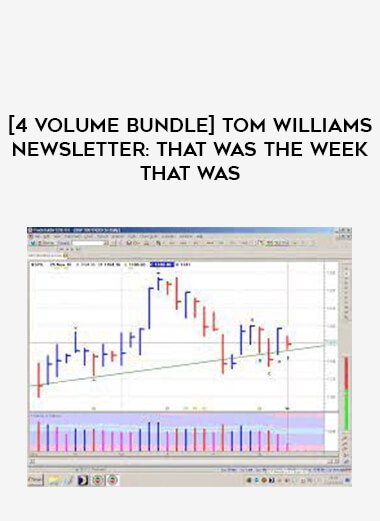 [4 Volume Bundle] Tom Williams Newsletter : That Was The Week That Was
Salepage : [4 Volume Bundle] Tom Williams Newsletter : That Was The Week That Was

Product Description
Each week veteran trader and VSA inventor Tom Williams pens a newsletter for members of the VSA Club. Each week he presents a blend of chart analysis, explanation of the principles and his predictions for the coming days. Over the last 3 years he has built up a unique view of how the markets have played out and how the VSA enlightened trader could predict and profit from the market movements! These newsletters have now been compiled into a collection of ebooks entitled "That was The Week That Was" For any chart reader each book is s completely fascinating, absorbing and informative analysis of a wide range of charts spanning stocks, futures and currencies.
What is forex trading?
Forex, or foreign exchange, can be explained as a network of buyers and sellers, who transfer currency between each other at an agreed price. It is the means by which individuals, companies and central banks convert one currency into another – if you have ever travelled abroad, then it is likely you have made a forex transaction.
While a lot of foreign exchange is done for practical purposes, the vast majority of currency conversion is undertaken with the aim of earning a profit. The amount of currency converted every day can make price movements of some currencies extremely volatile. It is this volatility that can make forex so attractive to traders: bringing about a greater chance of high profits, while also increasing the risk.
[4 Volume Bundle] Tom Williams Newsletter : That Was The Week That Was