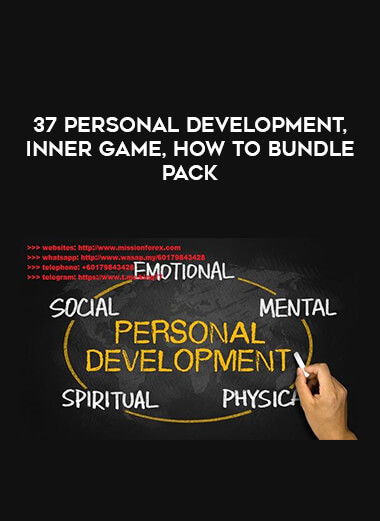 37 Personal Development, Inner Game, How To bundle pack
Salepage : 37 Personal Development, Inner Game, How To bundle pack

Product Description
what are includes in this purchase:
►100 Ways To Motivate Yourself Change Your Life Forever – Steve Chandler
Total size:83.7 MB
Contains:2 files
►Allen Carr – Easy Way To Stop Smoking – Unabbriged Audio Book – FLAC+CUE+Labels – By Mojocycle
Total size:683.6 MB
Contains:15 files
►Antifragile
Total size:446.9 MB
Contains:16 files
►Brian Tracy – Eat That Frog
Total size:125.7 MB
Contains:7 files
►Brian Tracy – Self Confidence
Total size:117.1 MB
Contains:68 files
►Deep Work Rules for Focused Success in a Distracted World [Audiobook]
Total size:213.8 MB
Contains:11 files
►Gary Keller, Jay Papasan – The ONE Thing The Surprisingly Simple Truth Behind Extraordinary Results
Total size:150.6 MB
Contains:1 file
►How to Get what You Want and Want what You Have
Total size:29.5 MB
Contains:18 files
►How to Think Like Leonardo Da Vinci Seven Steps to Genius Every Day
Total size:68.2 MB
Contains:4 files
►John Alexander — Alpha Male Audio
Total size:307.7 MB
Contains:29 files
►Learned Optimism How to Change Your Mind and Your Life
Total size:38.1 MB
Contains:1 file
►Little Gold Book Of YES Attitude
Total size:49.3 MB
Contains:8 files
►Mortimer J. Adler – How To Read A Book
Total size:837.8 MB
Contains:22 files
►No More Mr Nice Guy
Total size:182.7 MB
Contains:1 file
►robert greene – 48 laws of power
Total size:268.3 MB
Contains:1 folder
10 files
►Robert Greene and 50 Cent – The 50th Law (Recommended by David DeAngelo and Mystery)
Total size:235.4 MB
Contains:12 files
►Robert Greene Mastery
Total size:1.31 GB
Contains:14 files
►Sun Tzu – The Art of War
Total size:36.7 MB
Contains:4 files
►Switch by Chip Heath & Dan Heath
Total size:424.1 MB
Contains:7 files
►The 4 Hour Cook – Tim Ferris
Total size:261.5 MB
Contains:24 folders
349 files
►The 7 Habits of Highly Effective People
Total size:361.0 MB
Contains:6 files
►The 80-20 Principle
Total size:322.0 MB
Contains:2 folders
51 files
►The Art of War by Sun Tzu
Total size:116.6 MB
Contains:3 folders
43 files
►The Magic of Thinking Big – David J Schwartz Ph D
Total size:177.7 MB
Contains:4 folders
54 files
►The Miracle of Self-discipline The No-Excuses Way to Getting Things Done
Total size:65.9 MB
Contains:5 files
►The PhotoReading Whole Mind System
Total size:2.45 GB
Contains:3 folders
38 files
►The Six Pillars of Self-Esteem
Total size:93.3 MB
Contains:1 file
►The War of Art – Steven Pressfield
Total size:321.6 MB
Contains:5 folders
132 files
►Think Like Da Vinci
Total size:68.2 MB
Contains:4 files
What is forex trading?
Forex, or foreign exchange, can be explained as a network of buyers and sellers, who transfer currency between each other at an agreed price. It is the means by which individuals, companies and central banks convert one currency into another – if you have ever travelled abroad, then it is likely you have made a forex transaction.
While a lot of foreign exchange is done for practical purposes, the vast majority of currency conversion is undertaken with the aim of earning a profit. The amount of currency converted every day can make price movements of some currencies extremely volatile. It is this volatility that can make forex so attractive to traders: bringing about a greater chance of high profits, while also increasing the risk.
37 Personal Development, Inner Game, How To bundle pack