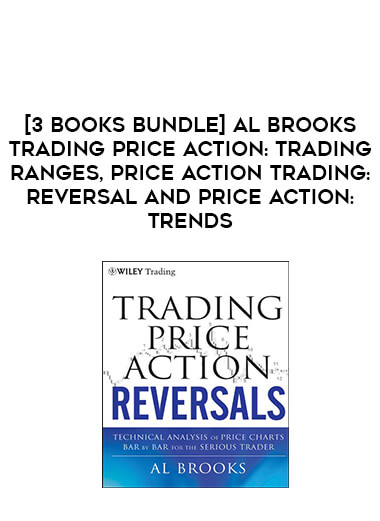 [3 Books Bundle]Al Brooks Trading Price Action: Trading Ranges, Price Action Trading: Reversal and Price Action : Trends
Salepage : [3 Books Bundle]Al Brooks Trading Price Action: Trading Ranges, Price Action Trading: Reversal and Price Action : Trends

Product Description
These are 3 ebooks written by Al Brooks based on price action trading. Format : PDF
The key to being a successful trader is finding a system that works and sticking with it. Author Al Brooks has done just that. By simplifying his trading system and trading only 5-minute price charts he's found a way to capture profits regardless of market direction or economic climate. His first book, Reading Price Charts Bar by Bar, offered an informative examination of his system, but it didn't allow him to get into the real nuts and bolts of the approach. Now, with this new series of books, Brooks takes you step by step through the entire process.
By breaking down his trading system into its simplest pieces: institutional piggybacking or trend trading (the topic of this particular book in the series), trading ranges, and transitions or reversals, this three book series offers access to Brooks' successful methodology. Price Action Trends Bar by Bar describes in detail what individual bars and combinations of bars can tell a trader about what institutions are doing. This is critical because the key to making money in trading is to piggyback institutions and you cannot do that unless you understand what the charts are telling you about their behavior. This book will allow you to see what type of trend is unfolding, so can use techniques that are specific to that type of trend to place the right trades.
Trading Price Action Reversals reveals the various types of reversals found in today's markets and then takes the time to discuss the specific characteristics of these reversals, so that you can use them in your everyday trading endeavors. While price action analysis works on all time frames, there are different techniques that you can use in trading intraday, daily, weekly and monthly charts. This, among many other issues, is also addressed throughout these pages.
    Offers insights on how to handle volatility and sharp reversals
    Covers the concept of using options when trading certain charts
    Examines how to deal with the emotions that come along with trading
    Other books in the series include Trading Price Action Trends and Trading Price Action Trading Ranges
What is forex trading?
Forex, or foreign exchange, can be explained as a network of buyers and sellers, who transfer currency between each other at an agreed price. It is the means by which individuals, companies and central banks convert one currency into another – if you have ever travelled abroad, then it is likely you have made a forex transaction.
While a lot of foreign exchange is done for practical purposes, the vast majority of currency conversion is undertaken with the aim of earning a profit. The amount of currency converted every day can make price movements of some currencies extremely volatile. It is this volatility that can make forex so attractive to traders: bringing about a greater chance of high profits, while also increasing the risk.
[3 Books Bundle]Al Brooks Trading Price Action: Trading Ranges, Price Action Trading: Reversal and Price Action : Trends