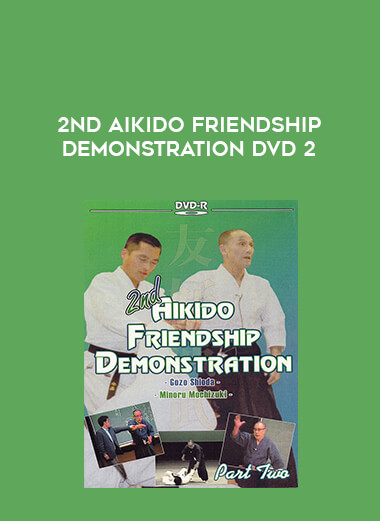 2nd Aikido Friendship Demostration DVD 2
Salepage : 2nd Aikido Friendship Demostration DVD 2

The second DVD of a digital mastering of one of the most exciting aikido demonstrations ever held. Part two contains lecture demonstrations by Gozo Shioda and Minoru Mochizuki from the 2nd Aikido Friendship Demonstration held in Tokyo in 1986.
Gozo Shioda was a prewar student of Aikido Founder Morihei Ueshiba. In the early 1950s, he established the Yoshinkan Aikido organization which contributed greatly to the early popularity of aikido. Author of numerous books and videos on aikido, Shioda is one of the most highly regarded figures in aikido history.
Minoru Mochizuki was another of Morihei Ueshiba's prewar students and came from a judo background. Mochizuki was dispatched to Ueshiba's dojo by Judo Founder Jigoro Kano to learn Morihei's wonderful jujutsu techniques. Following World War II, Mochizuki established Yoseikan Budo, an eclectic martial system and is the person credited introducing aikido to France.
Each informative and inspiring demonstration covers the most important aspects of each teacher's interpretation of their art. The entire program features a complete English voiceover of the Japanese commentary. These performances will provide you with many valuable insights to accelerate your progress in aikido training.
What is Martial arts ?
Martial arts are codified systems and traditions of combat practiced for a number of reasons such as self-defense; military and law enforcement applications; competition; physical, mental, and spiritual development; entertainment; and the preservation of a nation's intangible cultural heritage.
2nd Aikido Friendship Demostration DVD 2